ABOUT BOM SPECIES LIST BUTTERFLY HISTORY PIONEER LEPIDOPTERISTS METHODS
The Butterflies of Massachusetts
32 White M Hairstreak Parrhasius m-album (Boisduval & LeConte, [1833])
<![if !vml]>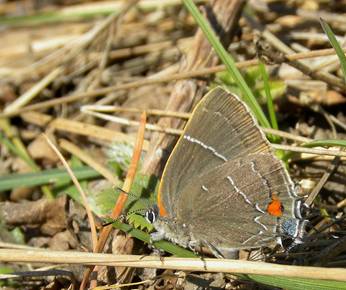 <![endif]>
Scudder listed the White M Hairstreak among those species "not found in New England" (1899: 1824-26). Today this lovely southern-based butterfly is expanding its range northward, probably owing to climate warming. It is on the increase in Massachusetts, likely over-wintering here in warmer years. It has three broods throughout most of its range, probably including Massachusetts.
White M Hairstreak was first figured by John Abbot about 1793 from Georgia specimens. In the 19th century there were only occasional reports of White M from New Jersey, Pennsylvania and Ohio, though the species was common further south (Scudder 1899: 1826). In the 20th century mid-Atlantic records increase. The very first New York records are two from 9/1967 and 10/1971 (Shapiro 1974). Today there are many records from New Jersey and New York. Since 1950, White M has become regular and occasionally "very common" at Cape May, New Jersey (Gochfeld and Burger 1997: 161).
Photo: Montague Plains WMA, Mass., Sue Cloutier, April 13, 2012
In Massachusetts White M was first reported from Falmouth on Cape Cod during the 1979 Xerces Butterfly Count, found by R. Edwards (Mello and Hansen 2004: 39). It was next documented near New Bedford on 29 July 1984, when Mark Mello found an individual in Acushnet Cedar Swamp. Mello also found one in North Dartmouth on 21 May 1987, during the MAS Atlas period, and T. Massey found it again in New Bedford on 6 June 1988. T. French found it on Penikese Island (Dukes Co.) on 27 and 28 August 1989 (MAS Atlas records; LepSocSeasSum 1984, 1987).
In 1987, as part of the Atlas effort, the first White M was reported from western Massachusetts by Edna Dunbar: 7 August, Sheffield (Berkshire Co.). Not until 2012 was it reported again from Sheffield. Back in the east, M. Mello netted one on 7/21/1991 on the Bristol Co. NABA Count. In 1992, particularly large numbers were seen in eastern Massachusetts, with reports from Plymouth, Milford, Easton and Sudbury. See Chart 32 below, which begins with the 1991 Mello report.
Host Plants and Habitat
White M Hairstreak's breeding habitat is oak woodlands or occasionally scrub areas. Its host plants are oaks. The 1995-99 Connecticut Atlas found it utilizing red oak (Quercus rubra), which is probably its main larval host plant in Massachusetts, although definitive evidence is needed. It is also reported to use white oak (Quercus alba), and in the south it uses mainly live oak (Quercus virginiana) (Scott 1986). Other Oak species are possible. It was also reportedly found and reared on basswood (Tilia spp.) in 1906 (Iftner et al. 1992), but there are no recent Tilia reports.
The eggs are laid singly on young leaves or buds. According to the life history timing developed by 1995-99 Connecticut Atlas investigators, eggs emerge in 4-8 days. The larvae feed singly on young hostplant leaves, and pupate in 20-30 days. The chrysalis lasts 8-12 days, or through the winter. White M Hairstreak is breeding and reproducing in Connecticut, and there is plenty of time for three generations (O'Donnell et al. 2007; photograph of the larva in Wagner, Caterpillars, 2005: 95).
White M is often found along forest edges and cuts through forest, or on ridges. In spring it can be found flying in the canopy before the leaves have emerged. It may be overlooked because of its association with the forest canopy; it is more often seen when it descends to nectar from various flowers, such as milkweeds, dogbane, joe-pye, and sweet pepperbush, or bask on a dirt road. Adults "wander widely and can turn up on flowers almost anywhere" (NatureServe 4/2012).
In Massachusetts White M has frequently been found on flowers in nurseries and community gardens. It has been photographed nectaring on buddleia at Northampton community gardens (photos: F. Model on MBC website); daisies at Beverly community gardens (photos: K. Haley, 2010); boneset at Polly Hill Arboretum West Tisbury (photo: J. Holland, 2007); and various flowers at Sylvan Nursery Westport.
Relative Abundance Today
White M Hairstreak was termed "rare" in Massachusetts during the 1986-90 Atlas years, and later MBC 2000-2007 records rank it as "uncommon to rare" (Table 5). During these years it was seen more frequently than some of our other uncommon late summer southern migrants, such as Long-tailed Skipper or American Snout, and was about on a par with Pipevine Swallowtail in frequency of sightings. But since then, sightings have become much more frequent.
Charts 32A and B show the raw numbers of White M Hairstreaks reported each year 1991-2013. Even without the linear trend line shown in Chart 32B, it is obvious that there has been a great increase in number and frequency of sightings over this twenty-three-year period. Through the 1990's, only one year, 1992, had double-digit numbers seen, and 1994, 1996, and 1997 had no reports of White M at all. But since 2000, there have been at least two White Ms reported every year, and five years of double-digit numbers. 2012 and 2013 were "invasion" years, and 2013 surpassed all previous years in total numbers seen (42).
The increase is partly, but only to a small extent, attributable to increased search effort. Since 1994 there has not been a marked increase in numbers of observers or in numbers of trips.
Charts 32A and 32B: BOM Recorded Sightings 1991-2013
A.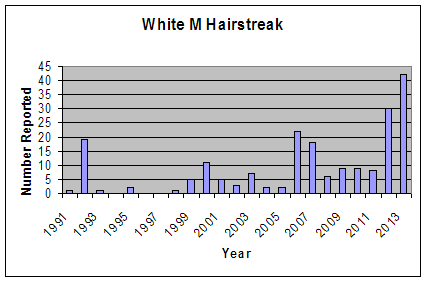 B. same chart with linear regression line added: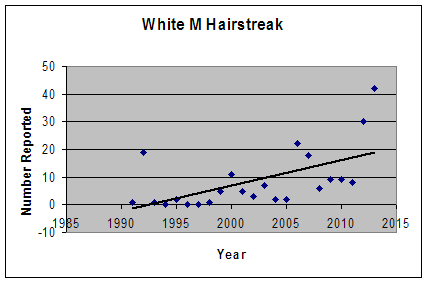 1992 was the first big year for White M Hairstreak in Massachusetts. In addition to sightings in Plymouth, Sudbury, and Milford that year (all first county records), Brian Cassie and Lyn Lovell found 5 White M Hairstreaks in Easton on August 6. Cassie, Lovell and Tom Dodd returned two days later to count 16 White Ms at the site! The main nectar sources were sweet pepperbush, meadowsweet and joe-pye weed (Cassie 1993). This Easton colony is apparently no longer there, but this find first suggested the possibility of successful over-wintering in Massachusetts (Cassie 1993; Mello, 1986-90 Atlas).
The high count in 2006 was due to the good numbers (max. 8 on 9/17/2006) seen at various locations in south Dartmouth. In 2007, Judy Holland visited Polly Hill Arboretum in West Tisbury, on Martha's Vineyard, and counted 8 White M Hairstreaks on September 4! They were nectaring on boneset and other late blooming flowers. One had been caught by an assassin bug. A photo appears in Massachusetts Butterflies, No. 29, Fall 2007. This is the largest concentration ever found on Martha's Vineyard, a new high count for the island.
In some years the larger numbers in Chart 32 are due to the discovery of a localised colony, such as the 16 found in Easton in 1992 (T. Dodd), or the 8 found at Polly Hill in West Tisbury in 2007 (J. Holland), or the 15 found at Mattapoisett Nasketucket Bay SR on 8/18/2013 (M. Arey and A. Grkovich). These colonies have usually not persisted beyond a single season. But in other years, such as 2012, it is simply that one or two individuals were seen in many new locations around the state.
The three colonies mentioned are the only sizeable concentrations of White M reported so far in Massachusetts. Harry Pavulaan has noted that such localized irruptions are not uncommon among White M Hairstreaks. He writes: Over many years, I've observed this phenomenon myself and have received additional reports from friends. While generally seen only as singletons, and usually as very chance encounters, they [White Ms] frequently irrupt into large numbers (dozens at one localized site) for a brood, and then are not found again at that site for many years. This may be the way the species maintains populations and spreads outward (northward). The irruptions likely produce localized population pressure and adults move outward to colonize new sites (Pavulaan, pers com. 4/22/2012).
Despite the transience of colonies, it is by now apparent that White M has become a regular member of our butterfly community. In addition, there have been April or early May reports every year since 2006, strongly suggesting that White M is successfully overwintering in the state.
State Distribution and Locations
The distribution maps (Maps 32A and 32B) tell a similar story to the charts: rapid increase in the range and number of locations for this species.
Between 1992 and 2010, White M Hairsteak had been reported from only 32 out of 351 towns, and was concentrated mainly in the southeast, with a few reports from the Connecticut River valley and the northeast (Map 32A). By 2013, the species had been reported from 58 out of 351 towns, and had dramatically expanded its known range to include central Massachusetts and the Berkshires (Map 32B).
Map 32A: BOM Recorded Sightings by Town, 1992-2010
<![if !vml]>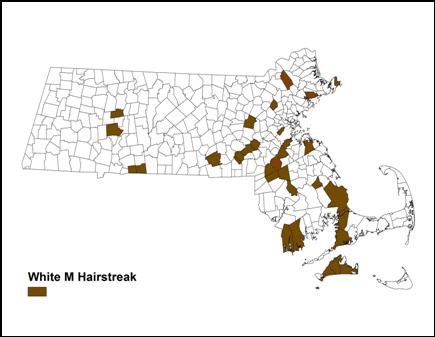 <![endif]>
Map 32B: BOM Recorded Sighting by Town, 1992-2013
<![if !vml]>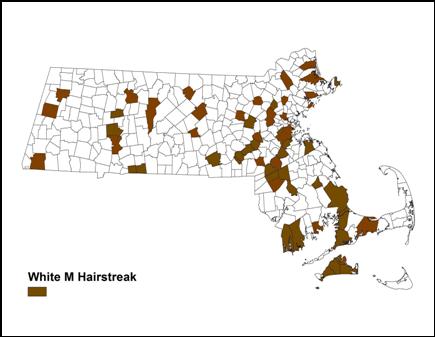 <![endif]>
Twenty-six new towns were added just in the three years 2011, 2012 and 2013. New towns on Map 32B which were not on Map 32A are Paxton, Princeton, Gardner and New Salem in central Massachusetts; Montague (see photo above), Easthampton (Mt. Tom) and Holyoke in the Connecticut River valley; and Sheffield, Pittsfield and Cheshire in Berkshire County. New towns in eastern Massachusetts are Barnstable, Boston, Carlisle, Mattapoisett, Medford, Natick, Newbury, Norfolk, Norton, Stow, Waltham and others.
It is not likely that White M was simply missed in central and western Massachusetts prior to 2011: there were plenty of knowledgeable observers in those areas. It is more likely that the butterfly was simply not there in large enough numbers.
In the 20+ years since the Atlas, White M Hairstreaks have moved dramatically northward on the east coast, from the earliest state sightings on the Cape and southern Bristol County, to Essex County north of Boston (Rockport 2000; North Andover 1998 and 2000; Beverly 2010, Newbury 2011). These are probably the furthest north records along the continental east coast, since White M. Hairstreak has not yet been found in Maine (MBS 6/2013).
Since the Atlas, White M has expanded through central Massachusetts, up the Connecticut River valley and north through the Berkshires. While its first route into the state appears to have been along the eastern coastline, later routes of entry are probably up the Connecticut and Hudson River valleys, and probably overland from Connecticut and New York. There is only one recent sighting from southeast Vermont (T. Armata, pers. comm. 8/14/2013), but more progress northward through the Berkshires into Vermont is likely.
Broods and Flight Time
White M Hairstreak has three broods throughout most of its range, and four in the south (Opler and Krizek 1984; Cech and Tudor 2005). Massachusetts records suggest the presence of three broods. Whether this butterfly successfully over-winters every year, or merely re-populates from the south in the spring and summer, is still not fully understood; both processes are probably in play. April sightings in 2010, 2012 and 2013 strongly suggested over-wintering in those years, and most observers feel that is likely to continue.
MBC records 1993-2008 show White M flying from early May through late October (http://www.naba.org/chapters/nabambc/flight-dates-chart.asp), but reports since then have been much earlier. Three broods ---flying in April-May, July, and Aug-October --- are evident in the data. The three flight times could possibly be clusters of arrivals from further south, but are more likely the result of in-state breeding. (One White M larva was found on 6/4/2013 on Canton Great Blue Hill, by Prof. Dave Wagner, and larvae on red oak have been found in Connecticut.) Once having arrived or emerged, there is easily time for White M to have another brood or two here.
The July emergences here could conceivably be still on the wing in September or October, making only two broods, the second with staggered emergences, as the MAS Atlas account suggested, but this seems unlikely. Or, the third flight in September could represent only a partial third brood, with numbers augmented by incoming migrants. Sightings have been more numerous in September than in other months, and the many late summer reports from the coastal Allens Pond area in south Dartmouth strongly suggest arriving migrants. Obviously, research on this species' life history in Massachusetts is necessary.
Earliest sightings: In the 22 years 1992-2013, the three earliest "first sightings" were 4/7/2012 Mt. Tom, T. Gagnon et al.; 4/23/2010 Palmer, C. Buelow; and 4/24/2013 Canton Great Blue Hill Dysart/Hoople/deGraaf . There were all in April, all in recent years, and in each of these three years there were also 1-2 other April sightings.
Prior to 2010, all spring "first sightings" were in May, including 5/1/1999 Chilmark Meneshma Hills TTOR M. Pelikan; 5/1/2001 Hingham Wompatuck SP, D. Peacock; 5/2/2009 Whately, B. Benner; 5/5/2007 Sherborn power line, D. Willis fide B. Bowker; 5/6/2002 Sherborn power line, R. Hildreth; 5/7/2006 East Longmeadow, K. Parker; 5/9/2000 Florence, T. Gagnon; and 5/13/2011 Foxborough Lamson Rd, M. Champagne.
In twelve (over half) of the 22 years 1992-2013, White Ms have been seen in May or in April. There have been spring sightings every year since 2006, strongly suggesting successful over-wintering. There have been July, or second brood, sightings in 9 out of the 22 years.
Last sightings: In the 22 years 1992-2013, the six latest "last sightings" are 10/28/2007, Tisbury, J. Holland; 10/26/2012 Brookline, B. Cassie; 10/10/2011 Dartmouth Sylvan Nursery, F. Model; 10/10/2006, West Tisbury, M. Pelikan; 10/2/1999, Westport Gooseberry Neck, MBC; and 10/1/2000 Rockport Waring Field, F. Goodwin.
Outlook
White M Hairstreak has not yet been found during recent Atlas efforts and other forays in Maine, and there is currently only one report from southern Vermont. Thus Massachusetts and similar latitudes in New York (e.g. Ghent, NY, 4/21/2012, C. Vispo), are currently the northern edge of this species' range. It remains to be seen whether the recent dramatic expansion through Massachusetts will extend further northward.
The 1995-99 Connecticut Atlas lists the species as "resident" (O' Donnell et al. 2007). It has apparently become so in Massachusetts as well.
Massachusetts will probably see more of this lovely species, whose northward movement appears to be facilitated by climate change (Table 6).
© Sharon Stichter, 2013
page updated 12-30-2013
ABOUT BOM SPECIES LIST BUTTERFLY HISTORY PIONEER LEPIDOPTERISTS METHODS