ABOUT BOM SPECIES LIST BUTTERFLY HISTORY PIONEER LEPIDOPTERISTS METHODS
The Butterflies of Massachusetts
60 Viceroy Limenitis archippus (Cramer, 1776)
<![if !vml]>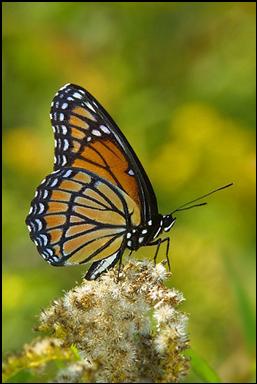 <![endif]>
Another lovely New England butterfly, closely related to the Red-spotted Purple/White Admiral. Like other Limenitis, the Viceroy is a mimic; it has evolved to mimic the Monarch in coloration, since the Monarch is unpalatable to birds. Unlike the Monarch, the Viceroy does not leave us in the fall; it stays around in one or another of its life forms to keep us company throughout the year. The hibernacula are often findable even in winter.
In what are probably the earliest Massachusetts records, Thaddeus W. Harris found a pupa and hibernaculum in the Boston area (probably Milton) in September 1820, and an adult Viceroy on September 30, 1822 (Harris Collection, MCZ; Index). Harris did not treat this species as among those "injurious" to important agricultural crops in the state, but he noted that the larva was sometimes considered a pest on the popular imported ornamental tree Balm of Gilead (Populus balsamifera) (Harris 1862; Index).
Scudder reported the Viceroy as abundant in southern New England at the end of the 19th century: "Within New England it occurs abundantly in the south, more sparingly in the north, although found in the very heart of the White Mountains." "The butterfly is found in open country in fields and meadows, especially in low grounds, and hovers fondly over blossoms of the golden rod " (1889: 272). Scudder did not find it necessary to give a list of locations.
Photo: Chelmsford power line, T. Whelan, Sept. 9, 2002
Collector F. H. Sprague's reports also suggest that Viceroy was common. In a single year, 1878, he collected Viceroy in Wollaston on June 8, 10 (9 specimens), 15, 19 (5 specimens), and 20; then in western Massachusetts he found them in Leverett on July 25 and August 5, 8, and 9; and in Belchertown he found half grown larva on poplars on August 24, 1878 (Sprague 1879). Five Sprague specimens from Wollaston and Malden (1878 and 1883) are in the Harvard MCZ, along with other turn-of-the century specimens -- four from Belmont, Cambridge and Waltham (1896 and 1897, C. Bullard), two from Wellesley (1898, 1899, Denton mounts), and one each from Weston and Tyngsboro. In 1874, the Cambridge Entomological Club found caterpillars on the early date of May 7 in Waverly (now Belmont) on three species of willow, "either eating the catkins for want of leaves, or still concealed in their hibernaculae" (Psyche Vol. 1, No. 4: August).
By 1934 Farquhar concurred with Scudder that Viceroy was "generally distributed and common throughout New England." He mentions some unusual or hybrid specimens from Sherborn and Concord (Farquhar 1934). Many specimens from 1940 through 1980 are at Yale Peabody Museum. In eastern Massachusetts it was collected at Somerset, Fall River, Westport and Dedham Fowl Meadows 1936 - 1950 by W. P. Rogers; in Acton, Concord and Littleton 1955 - 1966 by C. G. Oliver; in Melrose in 1921 (Gypsy Moth Lab), and in North Andover (Root and Farquhar 1948). Yale also has some of the earliest specimens collected in western Massachusetts. In Berkshire County Viceroy was collected in Lee (2 July 1971, Dodge, Hessel and Remington), Becket (9 Aug. 1971, L. F. Gall), and Sheffield (18 June 1982, D. S. Dodge). In Franklin County, there are specimens from Heath (Aug. 1984, S. D. Coe) and Rowe (15 June 1986, G. S. Morrell). In the MCZ is a Viceroy from "vicinity of Mt. Tom" near Holyoke (13 June 1964, J. M. Burns).
Viceroy was also known from Martha's Vineyard by the 1940's: F. M. Jones specimens from 12 August 1946 and 30 July 1949 are at Yale. Jones terms it "infrequent" on the island, but lists several years of captures, with dates including June and August-September, which, he says, indicates a life cycle similar to that of Red-spotted Purple (Jones and Kimball, 1943: 33). It was also present on Nantucket. C. Kimball reports capturing it in 1937 and 1939 (Jones and Kimball 1943: 33). One of his specimens (n.d.) is in the Kimball Collection at the Maria Mitchell Museum on Nantucket (LoPresti 2011).
Like the Red-spotted Purple/White Admiral, Viceroy must have at first increased in abundance after 1600, as a patchwork of small farms resulted in an increase in its early successional and edge habitat. However, it then probably decreased as clearing for agriculture peaked in the mid-1800s (Table 1). It then probably rebounded somewhat with the re-growth of woodlands and wooded suburbs after 1850 (Table 2).
Host Plants and Habitat
Early successional deciduous woodlands, woods edges and glades, and wetland edges are habitat for Viceroy. It is not a dense forest, closed-canopy species.
Viceroy has host plants in two ecotones, dry and wet, making for a versatile life style. Mello and Hansen observe that on Cape Cod, Viceroy is often found near wetlands, where Monarchs are scarce, since it uses willows as host plants. as well as buttonbush, joe-pye weed and purple loosestrife as adult nectar sources (2004: 51). It seems less dependent on adult nectar sources than is the Monarch, but is also seen on tree sap, aphid secretions, and decaying matter. In fall, according to Scudder "This butterfly is very fond of the juices of apples drying in the sun and of over-ripe fruit." (1899: 277).
Viceroy dryland hosts are poplars and aspens, for example quaking aspen (Populus tremuloides). Its wetland hosts are tree and shrub willows, primarily pussy willow (Salix discolor) and black willow (Salix nigra). During the 1990-95 Connecticut Altas project, Viceroy larve were found on all these poplars and willows in the wild (O'Donnell et al. 2007). Poplar saplings, rather than full-grown trees are preferred. Caterpillars feed on tissue at apex of leaf, eating around the midrib, leaving it intact as a resting spot. During the second or third instar, the third and some second brood larvae construct a hibernaculum from the poplar or willow leaf, and silk it to a leaf stalk or twig. In this protected shelter the larva spends the winter.
Caterpillar photographer Sam Jaffe found Viceroy caterpillars in "nearly every single open habitat that I searched" in eastern and central Massachusetts in 2009; " the caterpillars were often much more prevalent than the adults." When some caterpillars were found, there were usually others nearby, feeding on willow and poplar saplings and young trees (2009: 21-22). He confirms that there are three generations (see brood and flight timing, below).
Relative Abundance Today
The 1986-90 Atlas found Viceroy to be "Common" in the state, but MBC sighting records 2000-2007 (Table 5) rank it as Uncommon-to-Common, suggesting that there may have been some decline since the Atlas years. Red-spotted Purple was also ranked as "Common" by the Atlas, but the later MBC records rank it as only "Uncommon-to-Common."
The important Breed et al. (2012 ) list-length study of MBC data found a statistically significant 44.2% decline in this species 1992-2010. Chart 60 of sightings per total trip reports is a somewhat different measure of abundance, but it also shows a decline over this period. The downward trend in this and the related Red-spotted Purple and White Admiral have no obvious or easy explanation.
Chart 60: MBC Sightings per Total Trip Reports, 1992-2009
<![if !vml]>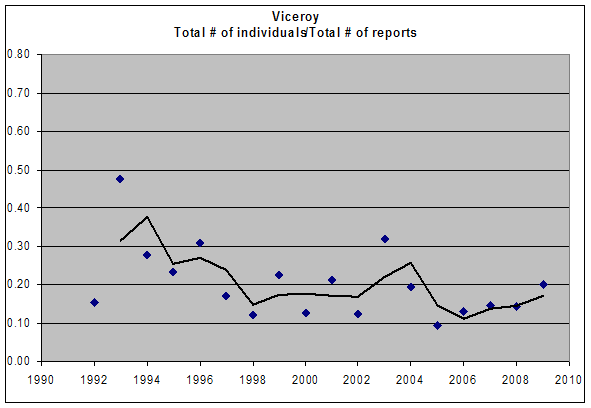 <![endif]>
State Distribution and Locations
Viceroy is found throughout the state (Map 60). It has been found in 186 out of a possible 351 towns. It is much less frequently found on Cape Cod and the islands than inland, but since the 1990's there have been increasing reports from this area.
Map 60: BOM-MBC Sightings by Town, 1992-2013
<![if !vml]>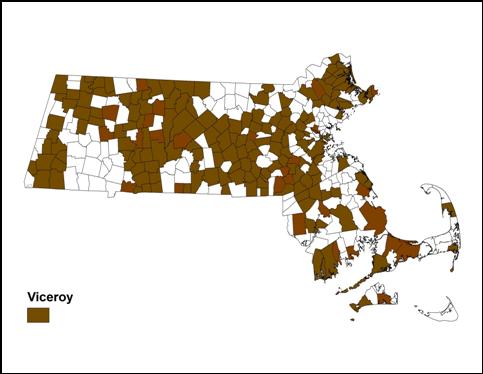 <![endif]>
The 1986-90 Atlas found Viceroy "very scarce" on Cape Cod and the Islands. There were only two Cape Cod locations: Truro at one end and Gosnold (Penikese Island and Cuttyhunk Island) at the other. There were no Atlas reports from Martha's Vineyard or Nantucket. There were, however, several records from the south coast (Westport, Dartmouth, Marion, New Bedford) and many from inland southeastern Massachusetts. The Atlas called Viceroy "locally abundant" in New Bedford and Easton.
The first Martha's Vineyard record since the 1940's seems to be one reported from Aquinnah on 9/17/1998 by M. Pelikan. The next reports are 1, Chilmark 9/21/2000, A. Keith, and 1, Edgartown Correllus SF, 7/2/2010, M. Arey. There are subsequent Vineyard reports on 9/8/2012 and 9/16/2012, so that while Viceroy is still "Rare" on the island (Pelikan checklist 2002), it may be increasing. It may have been there since the 1940's in very low numbers, or it may have recently re-colonised from the mainland. Perhaps Nantucket is next, but there are no reports so far since 1939.
On Cape Cod, BOM-MBC reports are few and usually of singles only; thus there is only a small increase since the Atlas period. There are now reports from Falmouth Crane WMA (1 on 6/10/2001 but 4 on 7/21/2013, A Robb); Brewster NABA (no town location provided, prob. Wellfleet; 1 in 2007); Sandwich Mass Military Res. (1 on 7/16/2011, E Nielsen and P. Trimble); Barnstable Long Pasture WS (1, 8/15/2013, J. Dwelly, and 1, 7/21/2010, A. Robb); Chatham Morris Island (1, 8/24/2003, R. Pease); and Wellfleet Wellfleet Bay WS (1 on 7/19/2008, and 1 on 8/15/2013, M. Faherty). Mello and Hansen (2004: 51) point to two locations in Provincetown, Evans Field and Pilgrim Lake, but no dated reports are in the records. Overall, Viceroys are still not very common on Cape Cod. Oddly, they are much easier to find along the south coast from Westport through Mattapoisett; from those areas BOM-MBC, like the Atlas, has many records.
Like the Red-spotted Purple, Viceroy can be found on coastal islands. There are Atlas and MBC reports from Gosnold Cuttyhunk and Penikese islands, from Chatham Morris Island, from Nahant (1, 8/15/2003, D. Saffarewich), and from the Boston Harbor Islands (1, Great Brewster Island, 9/17/2002; M. Mello 2003).
Locations from which larger numbers have been reported include
Charlton power line, 37 on 8/12/2012, B. Bowker and L. Stilwell; Chelmsford power line, 7 on 7/30/2011, B. Bowker; Dartmouth Lucy Little Rd., 4 on 7/22/2012, M. Mello; Duxbury Bay Farm, 4 on 8/19/2011, B. Bowker; Easton power line, 41 on 7/31/1993, B. Cassie; Falmouth Crane WMA, 4 on 7/21/2013, A. Robb; Grafton Dauphinais Park, 6 on 9/2/2012, D. Price and M. St. Onge; Hubbardston DCR property, 6 on 7/31/2013, W. Howes; Mattapoisett Nasketucket SR, 12 on 8/4/2013, M. Arey; Middleton Hogan Res., 14 on 9/24/2006, M. Arey; Milford power line, 11 on 7/20/2008, E. Nielsen; New Bedford Plainville Rd., 4 on 7/23/2011, M. Mello; Newbury Martin Burns WMA, 10 on 8/2/2009 and 6/8/2012, J. Stichter; Northbridge Larkin Rec.Area, 9 on 8/3/2012, B. Bowker and L. Stilwell; Northampton community gardens, 11 on 9/20/2003, E. Nielsen, T. Gagnon and T. Murray; Pelham power line, 9 on 8/12/2013, C. Kamp; Petersham North Common Meadow, 7 on 6/20/2011, G. Breed and P. Severns; Raynham Borden Colony, 6 on 5/31/2012, J. Dwelly; Ware Klassanos property, 18 on 8/23/2009, B. Klassanos; Windsor Moran WMA, 8 on 9/21/2003, M. Lynch and S. Carroll; Woburn Horn Pond Mountain, 5 on 5/20/2012, H. Hoople; Worcester Broad Meadow Brook, 7 on 9/8/2013, W. Miller and D. Price.
Broods and Flight Period
According to MBC 1993-2008 records, the Viceroy flies in Massachusetts from mid-May through October http://www.naba.org/chapters/nabambc/flight-dates-chart.asp The flight thus begins earlier and lasts longer than was evident from the 1986-90 Atlas data. More recent data have extended the flight period even more. There are usually three broods in the state.
In describing the Viceroy life cycle, one can do no better than to quote Brian Cassie's account in the Atlas: "In Massachusetts, partially grown Viceroy larvae emerge in late spring, feed on young willow and aspen leaves, and after seven to ten days in the chrysalis, fly in numbers in June. The second brood peaks about six weeks later, in late July, and at least a portion of the eggs laid by this brood develop to the imago, as fresh adults may be found flying and mating well into September. This third brood is relatively small in number and suggests that many of the late summer, second brood larvae (and all those of the third generation) suspend feeding, usually during the second or third instar, and construct a winter resting place for themselves."
Earliest sightings: In the 23 years of BOM-MBC data 1991-2013, the six earliest "first sighting" dates are 5/2/2010 Middlesex Fells, M. Arey; 5/4/2009 Petersham North Common Meadow, R. Hopping; 5/9/1999 Newbury yard, S. Stichter; 5/17/1991 Milford, T. Dodd (cited in the Atlas as the earliest date); 5/18/1996 Hopedale, T. Dodd; and 5/19/2012 Chelmsford power line, B. Bowker and L. Stilwell.
Over a century ago, Scudder wrote that "The butterflies appear early in June, usually by the 5th or 6th, in the latitude of Boston, the earliest date recorded being May 31...near Albany, N. Y." (1899: 275). It would appear that the first adult butterflies appear earlier now. Scudder also wrote that the second brood of adult butterflies appear in Massachusetts about the middle of July.
Latest sightings: In the same 23 years of records, the six latest "last sightings" are 10/24/1998 West Newbury, F. Goodwin; 10/23/1995 Sudbury, T. Dodd; 10/20/2007 Leicester, M. Rowden; 10/14/2003 Northampton comm. gdn., T. Gagnon; 10/12/2009 Hingham World's End, B. Bowker; and 10/12/2013 Mattapoisett, B. Cassie.
Scudder thought that egg-laying females at the latitude of Boston probably flew until the end of September, even though their wings would be "tattered remnants" (1899: 276). Today's flight clearly lasts longer.
Outlook
Despite a small downward trend, this is one species for which the outlook is good. NatureServe (2013) ranks it S5, or "secure" in Massachusetts. Since it ranges quite far to the south in eastern North America, as well as north into Canada, there is no reason to think that it would be negatively impacted by climate warming.
© Sharon Stichter 2014
page updated 1-25-2014
ABOUT BOM SPECIES LIST BUTTERFLY HISTORY PIONEER LEPIDOPTERISTS METHODS