ABOUT BOM SPECIES LIST BUTTERFLY HISTORY PIONEER LEPIDOPTERISTS METHODS
The Butterflies of Massachusetts
106 Two-spotted Skipper Euphyes bimacula (Grote & Robinson, 1867)
<![if !vml]>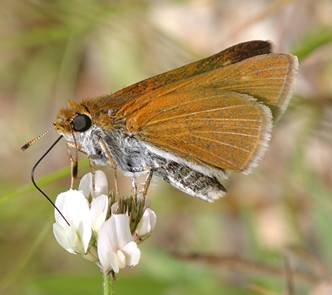 <![endif]>
The Two-spotted Skipper is rare in Massachusetts, but it may have been somewhat less rare in the late 1800's. Scudder called this the "bright-rayed skipper," not so much for the white line along the under hind wing trailing edge, which is its most visible field mark, but for the pale hind wing veins, which distinguished it from Crossline Skipper (1889: 1719-20).
The form or sub-species usually recognized as occurring in Massachusetts and New England is Euphyes bimacula bimacula. It is differentiable from the larger, grayer mid-continent prairie sub-species E. b. illinois, and also from the smaller, darker southeastern coastal plain sub-species E. b. arbogasti (Pelham 2008). The southeastern form is even rarer than E. b. bimacula.
Photo: Tom Swamp, Petersham, Mass. T. Murray, June 28, 2004
Scudder termed Two-spotted Skipper rare, but surprisingly he knew of quite a few Massachusetts specimens: from Mt. Tom and Springfield (Dimmock and Morrison) in the Connecticut River valley, and from Malden and Wollaston (Sprague), Lexington (Sanborn), Quincy (Merrill), and Walpole (Guild) in the greater Boston area. F. H. Sprague's six specimens from Malden in 1883 are in the MCZ, and an E. J. Smith specimen from Sherborn c. 1900 is at Boston University. For western Massachusetts, Sprague's five 1878 specimens from Belchertown are in the MCZ; Sprague said that the earliest he had seen it there was July 1 that year (Sprague 1879).
This skipper has either further declined, or remained rare here, since Scudder's day. By 1934, Farquhar's comprehensive review of reports and specimens calls this species "rather rare" in New England, and adds no new Massachusetts locations beyond those listed above. He cites only five Maine, New Hampshire or Connecticut specimens. The only early 20th century museum specimens seem to be the four collected in 1936 by C. L. and P. S. Remington from Hockamock Swamp in Taunton (6/29/1936, Yale Peabody Museum). Dotted Skipper was not reported from Martha's Vineyard or Nantucket in the 1930's and 1940's (Jones and Kimball 1943).
In the mid-1960's there was an interesting increase in numbers of Two-spotted Skipper in the northeast, which apparently reached a peak in 1968. For example, Shapiro (1974) reports a buildup in New York in 1968, followed by a decline afterwards, and the Lepidopterists' Society Annual Summary for 1968 reported that there were Two-spotted "outbreaks" in Maine and Pennsylvania, with "100 specimens taken roadside at Passadumkeag" Maine in early July by Ferris and Grey in a couple of hours, whereas in prior years this species had been scarce in Maine.
As far as is known, this "outbreak" occurred at only one location in Massachusetts: in 1966 Charles Oliver reported finding fifteen Two-spotted Skippers-- a rather large number--on 20 June in Littleton. Eight of his specimens (30 June - 1 July, 1966) are in the Yale Peabody Museum. Two-spotted is not heard of again in this state until 1974, when William D. Winter collected it in Tewksbury on July 2 (specimen in the MCZ), and then 1975, when Darryl Willis found one on July 19 along the Sherborn power line, a well-known lepidoptera hotspot (Lep. Soc Seas. Sums, 1966; 1975).
Euphyes bimacula is apparently a relict species, more common in the immediate postglacial era but gradually losing ground today, and quite sparsely distributed (Cech 2005; Shapiro 1970b). Shapiro deduces that the few scattered occurrences along the southeastern coastal plain are evidence of a glacial refugium there, and suggests that if modern populations are derived from those migrating northward from such a refugium, E. bimacula reached the Great Lakes from the east coast, rather than up the Mississippi river.
Like Mulberry Wing and Black Dash, Two-spotted Skipper is another northern-range wet meadow skipper for which the climate change outlook is not good. Its distribution today is mainly northern; it is found from northern Virginia to mid-Maine, and west through the Great Lakes region to Iowa, extending north into southern Canada, mainly in southern Ontario (Opler and Krizek 2004; Cech 2005; Layberry 1998).
Host Plants and Habitat
Two-spotted Skipper specializes in bogs, fens and marshes. Its main documented food plant is hairy-fruited sedge, Carex trichocarpa, which is not common in Massachusetts, being found only in Berkshire and Middlesex Counties (Cullina et al. 2011; Magee and Ahles, 1999). But Two-spotted is also found associated with the widespread tussock sedge, Carex stricta, and probably also uses that as a host (Scott, 1986).
This species overwinters as a half-grown larva. It is often found nectaring on marsh flowers such as Pontedaria or on other flowers in nearby meadows.
Relative Abundance Today
Given this skipper's presumed rarity in the state, the three Two-spotted Skippers found by the 1986-90 MAS Atlas volunteers were big news. The Atlas records were all from 1986, but well-distributed across the state, singles from Granby (Hampshire Co.) (N. Weiss, 7/6/1986), Millis (Norfolk Co.) (B. Cassie, 6/30/86), and West Newbury (Essex Co.) (R. Forster 7/4/1986). Cassie in the Atlas account mentions nine other sightings or specimens from the years 1973-1993, from Norfolk, Essex, Berkshire, Middlesex and Plymouth Counties, but gives no details. The Essex County reports are from R. Godefroi, who saw it in Andover in 1985, 1987 and 1989 (his records).
With only three blocs confirmed, the Atlas found Two-spotted Skipper to be "rare." The efforts of MBC members and photographers since then have shown that it is perhaps not quite so rare as previously thought (Table 5).
As Chart 106 indicates, Two-spotted Skipper has been found in 10 of the 23 years 1992-2013. In some years no searches were made, but the skipper was probably present at known locations. Numbers counted at any one location were never higher than three or possibly four. Only the highest count for any one day and location is shown on the chart. Chart 106 is not meant to suggest any trend.
Chart 106: BOM-MBC Sightings, 1992-2013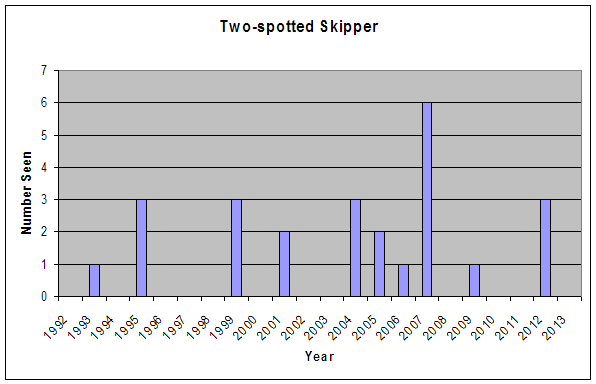 MBC records begin in 1993 when Brian Cassie found a Two-spotted Skipper on the Foxboro NABA Count on 7/11/1993 "in a dried up sedge meadow adjacent to a cranberry bog". Then in 1995, Dick Walton revisited the Millis site, and found 3; after that, bimacula went unrecorded until 1999, when Tom Dodd and Brian Cassie visited Millis again, again finding 3. In 2001, 2 bimacula were reported on the Central Franklin NABA count, presumably from the New Salem location. In 2004,Tom Gagnon, Bill Benner, Bruce Callahan and Joe Wicinski found Two-spotted Skipper at a new location, Tom Swamp at Harvard Forest in Petersham. Tom Murray photographed it there the next day, confirming the identification, and the photo (see above) appeared on the cover of the Club's journal Massachusetts Butterflies.
Two-spotted Skipper was seen again in 2005, 2006 and 2007 at the Tom Swamp (Harvard Forest) location, but was not seen there in 2008, 2009, or 2010 - 2013. The highest count at that location was 3 on 6/28/2004, T. Murray; on 6/29/2004 R. and S. Cloutier saw two, male and female.
2007 was a "boom" year for Two-spotted Skipper in the state. In addition to one observed at Tom Swamp, a high count of three was seen at the south Athol/New Salem site, and it was discovered in two new locations: October Mountain State Forest in Lee/Washington/Hinsdale (1, 7/12/2007, T. Gagnon and R. Cloutier), and on the Blackstone Valley NABA Count (1, 7/14/2007, T. Dodd). This brought the year's total to six. By contrast, 2008 was a 'bust," but in 2009 a single was found at the Athol/New Salem site on 7/8/2009 by R. and S. Cloutier.
No Two-spotted Skippers were reported (or apparently looked for) in 2010, 2011 and 2013. However, in 2012 two to four individuals were found by F. Model and others on 6-23-12 at the Athol/New Salem location, and were photographed on 6-28-2012: http://www.flickr.com/photos/fsmodel/7463593586/in/photostream/
State Distribution and Locations
Map 106: BOM-MBC Sightings by Town, 1992-2013
<![if !vml]>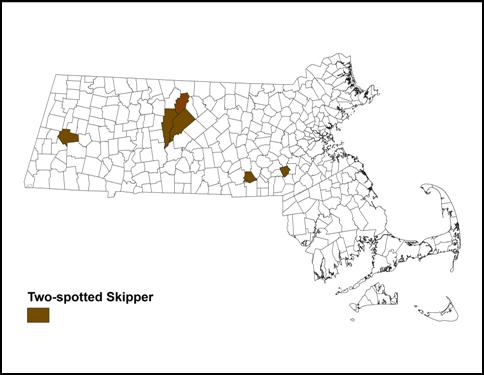 <![endif]>
In the years 1992-2013 Two-spotted Skipper was reported from six towns and five locations. The five locations are a farm in Millis, Petersham Tom Swamp, Athol/New Salem (wetland site on the border of the two towns), October Mountain State Forest (Washington/Hinsdale), and Blackstone Corridor NABA Circle. The only sites documented with photographs are Petersham Tom Swamp and Athol/New Salem.
The three Atlas reports were Granby, West Newbury, and the Millis site. The Millis site has not been reported on since 1999, and the other two Atlas reports have not been found again, though some wetland sites in those two towns have been visited. Two-spotted Skipper has not been reported from southeastern Massachusetts or the Cape or Islands.
NOTE TO COLLECTORS: DUE TO ITS RARITY IN MASSACHUSETTS, SPECIMENS OF TWO-SPOTTED SKIPPER SHOULD NOT BE TAKEN BY AMATEUR COLLECTORS.
Broods and Flight Time
Two-spotted Skipper flies from the last week in June through mid-July, according to MBC 1993-2008 records (http://www.naba.org/chapters/nabambc/flight-dates-chart.asp). It is univoltine at our latitude, but probably is, or was, bivoltine in southeastern states.
Earliest sightings: In 22 years of BOM-MBC records 1992-2013, the three earliest "first sighting" dates are 6/23/2012, Athol/New Salem, F. Model; 6/24/2005 Petersham Tom Swamp, T. Murray, and 6/26/1999, T. Dodd and B. Cassie. The 1986-90 Atlas early date had been similar: 6/30/1986, Millis, B. Cassie.
Latest sightings: In the same 22 years of records, the two latest "last sightings" are 7/14/2007 Blackstone Valley NABA Count, and 7/8/2009 Athol/New Salem, R. and S.Cloutier. The Atlas late date had been 7/6/1986, Granby, N. Weiss.
However, historical reports from the 1960's and 1970's show greater extremes: the earliest report being 20 June 1966, Littleton, C. G. Oliver, and the latest being 19 July 1975, Sherborn power line, D. Willis. Scudder's nineteenth-century account is, as he himself says, from insufficient data (1889:1720), and is therefore not useful for flight time comparisons.
Outlook
D. F. Schweitzer writes that Euphyes bimacula is "apparently declining significantly from Massachusetts to Pennsylvania" (NatureServe 3/2014). In Pennsylvania, it is ranked S2 or "imperilled;" in Connecticut it is listed as S1 or 'critically imperilled;' in Connecticut it is also state-listed as Threatened. NatureServe ranks Two-spotted Skipper as S2 or 'imperilled ' in Massachusetts, and S3-S4 or 'vulnerable' in Maine and New Hampshire. The southern form is ranked S1 or 'critically imperilled' in South Carolina and Georgia. It is more secure in New York, Michigan and Ontario.
As with Mulberry Wing and Black Dash, the threats to this skipper would appear to be twofold -- loss of wetlands and climate change. Continued draining, ditching and filling of marshes will destroy core habitat and host plants for this and other wetland butterflies, and overgrazing of wet meadows on farms is also a significant factor.
As to climate change, the range of this skipper is, like that of Mulberry Wing and Black Dash, now limited to states north of Virginia, often at higher elevations. Climate warming in these areas will probably cause a further retreat northward and upward, and although the effect on populations in Massachusetts is unclear, decrease is very likely (Table 6). Since it is only univoltine at these latitudes, and perhaps for other reasons, Two-spotted Skipper's numbers here are already limited.
The rarity and poor outlook for this skipper in Massachusetts indicate that it is a good candidate for state-listing as a protected species. It does not presently have that status, despite its NatureServe rank of S2. We list it here at a Species of Conservation Concern. The few sites where this skipper is known to have recently occurred should be monitored each year, and protected if possible.
© Sharon Stichter 2011, 2012, 2013, 2014
page updated 12-10-2014
ABOUT BOM SPECIES LIST BUTTERFLY HISTORY PIONEER LEPIDOPTERISTS METHODS