ABOUT BOM SPECIES LIST BUTTERFLY HISTORY PIONEER LEPIDOPTERISTS METHODS
The Butterflies of Massachusetts
42 Regal Fritillary Speyeria idalia (Drury, 1773)
<![if !vml]>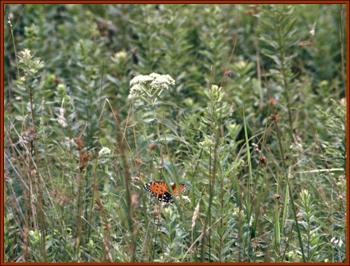 <![endif]>
The majestic Regal Fritillary was one of the most well-known and admired butterflies in New England in the 19th century. It is now gone, the last ones seen in Rhode Island in 1991. Why did it die out? Most experts agree that this wide-ranging species is most adapted to extensive, flower-filled prairies, such as those in mid-continent. Habitat loss and fragmentation here in the northeast are thought to be the most important causes of its decline. Aerial spraying of pesticides, over-collecting, parasites, and hurricanes may also have played a role.
Photo: Nantucket, Massachusetts, Stan Bolton, August 13, 1988
Origins in the East
The Regal Fritillary's presence in the northeast dates at least from the melting of the Wisconsin glaciers approximately 12,000 to 16,000 years ago, when a postglacial "prairie peninsula" expanded eastward from the central parts of the continent. The eastern limits of this prairie extension are represented by today's dry grasslands on Martha's Vineyard, Nantucket, Long Island in New York, and the New Jersey pine barrens, among others. As glacial melt continued, these areas became disjunct from their midwestern counterparts, as did their component organisms such as the Regal Fritillary. Once established in the east, these areas continued to maintain themselves for some time by a combination of natural and human-set fire, wind blow-down, and grazing farm animals.
Geneticist Barry Williams concludes from DNA evidence that the eastern populations of Regal Fritillary, now extant solely at Fort Indiantown Gap, Pennsylvania, have been reproductively isolated from the midwestern populations for over 400,000 years, and have become differentiated enough to constitute a separate subspecies (Williams et al., 2003; Williams 1999). Our eastern subspecies is now known as Speyeria idalia idalia (Drury, 1773), type locality West Farms New York City, while the midwestern subspecies is S. idalia occidentalis (B. Williams, 2002), type locality Crete, Illinois (Pelham 2008).
Regal Fritillary is a strong flier, adapted to large, open grasslands. Like our other large fritillaries (Great Spangled Fritillary, Aphrodite Fritillary, Atlantis Fritillary), it benefited from the extensive forest clearing and pre-industrial agriculture practiced from colonial days until the end of the 19th century (Table 1). It was found in all kinds of open habitat in Massachusetts, not just dry coastal grasslands. Lightly grazed pastures, in particular, were favorable habitat for violet growth, especially when bordering marshes and ponds where nectar sources could be found. In New England Regal Fritillary apparently made use primarily of ovate-leaved violet, Viola fimbriatula, which abounded in dry, grazed areas but was quickly shaded out if goldenrod or shrubs were allowed to encroach (Mello 1989; Wagner et al. 1997). It may have made use of other violet species in moister, mainland sites. As open land was abandoned and re-grew to forest, or was converted to intensive agriculture or industrial/residential development, all fritillaries have suffered habitat loss, with the Regal probably the least able to adapt. Its decline in mainland New England, dating from at least the 1940's in Massachusetts, broadly coincides with the conversion of land to non-agricultural uses (Table 2).
Regal Fritillary in the nineteenth and early twentieth centuries
"This fine Butterfly makes its appearance with us late in June," wrote naturalist Charles Maynard of Newton in 1886, "frequenting the meadows, and like many other species, feeds upon the flowers of the button bush and water milk weed. The Regal Silver-wing moves with a strong, majestic flight and although not usually rapid in movement when flitting from flower to flower, courses about the meadows so quickly as to be extremely difficult to capture." Like most nineteenth-century collectors, Maynard had several specimens.
The earliest known specimens are those of Thaddeus W. Harris at Harvard University, who had three taken "the middle of July" 1820 in meadows in the Boston/Milton/Cambridge area. He had a fourth specimen which emerged ex pupa July 15, 1822, and a fifth captured August 1, 1833 in Milton, where he had lived just a few years earlier (Harris, Index Lepidopterum; Harris collection, MCZ). He called the Regal a "large and fine butterfly" (List; Report, 1862: 285, Fig 110).
F. H. Sprague, 19th century collector par excellence, had at least three Regal Fritillary specimens from (or possibly emerged at) Wollaston (now Quincy, near Boston and Milton), dated July 1883; as well as another specimen caught at Granby on July 8, 1883. Other early or turn-of-the-century specimens include one from Truro on Cape Cod (F. S. Sanborn, August 1869); two from Wellesley 1896 and 1897 (Denton mounts, MCZ); one from Lexington (C. Bullard, July 25, 1897); one from Sherborn (C. A. Frost, July 25, 1909); one from Newton (C. S. Minot, July 14, 1911); an early Nantucket specimen (G. F. H., August 22, 1878); and one from Keene Valley, New Hampshire (July 4, 1900) (Harvard MCZ, Yale Peabody, and Boston University collections). The inland locations demonstrate that Regal Fritillary was not confined at this period to coastal sandplain prairie remnants.
The Denton Brothers, inventors of a special plaster mount for natural history specimens, collected butterflies around Wellesley between 1870 and 1923. Their collection, preserved today by the Wellesley Historical Society, contains seven undated but presumably local Regal Fritillary specimens; three are labeled "Massachusetts." Three other Denton mount specimens, labeled March 10, 1905, "Massachusetts", presumably collected by the Dentons, are found in the Yale Peabody Museum.
Summing up the late 19th century, Samuel Scudder found Regal Fritillary "abundant in Connecticut at several places"; "quite common" around Springfield, Massachusetts; "tolerably abundant" in Berkshire County and on Cape Cod; and "particularly abundant" on the island of Nantucket. At least nine of Scudder's Nantucket specimens can be found today in the Harvard MCZ; however there appear to be no Berkshire County specimens in museums. Regal Fritillary was less common to the north: found only sparingly near, but not in, Essex County, and at a few locations in New Hampshire and Maine. It may have been more common in central Massachusetts than Scudder reports. Scudder writes that the butterfly was to be found in "open breezy meadows or pastures in close proximity to marshy land or ponds" (1889: 541-2; 1872: 23).
By the mid-twentieth century, Farquhar (1934) lists many additional mainland locations from which Regal Fritillary specimens had been collected, but does not give dates: Worcester (W. T. M. Forbes); Woods Hole (W. T. M. Forbes) and Sandwich (R. C. Williams) on Cape Cod; Edgartown (C. W. Johnson) [two specimens, 1912 and 1917, at Boston University]; and Malden (F. H. Sprague). J. B. Paine collected one in Chatham on Cape Cod in 1918 (MCZ). North of Boston Farquhar lists specimens from Salem (F. H. Walker), North Andover (coll. unkn.), and Stoneham (C. V. Blackburn). Also, Austin H. Clark reports finding Regal Fritillary in Manchester or Essex in 1925 (Clark, 1926).
Interestingly, Farquhar also lists specimens from five locations in Maine: Wales, Waterville, Brunswick, Norway, and Portland. Waterville, near Bangor, is about the furthest north the Regal Fritillary reached (see maps in Opler and Krizek 1984; Cech and Tudor 2005).
South of Boston, there are additional mid-century mainland specimens from Taunton (Hockamock Swamp), North Weymouth and Milton by C. L. and P. S. Remington, collected in 1936, and from Westport, by W. P. Rogers, collected in 1935 (Yale Peabody Museum).
Through the mid-twentieth century, Nantucket and Martha's Vineyard continued to be strongholds for Regal Fritillary. On Nantucket, Charles Kimball reported it "well-distributed and common: in especially large numbers at flowers of the swamp milkweed (Jones and Kimball 1943). Five Kimball specimens at Maria Mitchell Museum, and ten Nantucket specimens at Boston University dating 1915-1929, all probably by C. W. Johnson, amply document its presence on that island.
On Martha's Vineyard, F. M. Jones reported it "Frequent, especially among the moor-like hills of Chilmark and Gay Head, and on the thick-studded flats of the South Shore" (Jones and Kimball 1943). F. M. Jones specimens from August 1, 1936 (Boston University), from July 22, 1944 (Yale Peabody), and undated (Harvard MCZ) are at area museums. Regal Fritillary was also present on Nonamesset Island, one of the Elizabeth Islands, near Woods Hole (four specimens, August 3, 1940, W. P. Rogers, Yale Peabody Museum).
The last known records from mainland Massachusetts are those from the mid-1930's. Except for the islands, there are no known records in museums or reports from the Lepidopterists' Society after 1936. The last documented report from Maine was in 1941 (Webster and deMaynadier 2005). Thus, from mid-century onward, Regal Fritillary was apparently withdrawing to the south, and to the offshore islands of Martha's Vineyard and Nantucket. But on the islands, as well as in Connecticut and Rhode Island, populations persisted through the 1980's.
Decline of the Regal Fritillary
From at least the 1930's Regal Fritillary began to decline in Massachusetts, maintaining populations only on the offshore islands. This species may always have been more abundant on the dry sandplain grasslands of Martha's Vineyard, Nantucket, and Block Island than on the mainland (Scudder 1889; Jones and Kimball 1943; Wagner 1997). It therefore persisted the longest in these areas.
There is indication from mainland Connecticut that some colonies there were disappearing by the late 1940's (Wagner et al. 1997). Even as the decline became obvious in Massachusetts, collectors in Connecticut continued to have a field day taking specimens, raising the possibility that over-collecting in the 1950's and 1960's hastened or even caused the species' decline in that state. For the ten years 1950 through 1959, no less than thirteen Regal Fritillary specimens are to be found in the Yale Peabody Museum, taken in places such as Woodbridge, Washington and Lakeville by C. L. Remington, S. A. Hessel, R. Pease, and others. For the years 1960 through 1968, there are six museum specimens, and a 1971 private specimen from Roxbury. The latest and probably last Connecticut specimen was taken July 7, 1985, by D. J. Comboni at Lake Mohegan in Fairfield, at a time when the Regal Fritillary's precipitous decline was already well known.
By the mid-1980s, only six populations of Regal Fritillary remained in New England, all on the offshore islands: Martha's Vineyard, Nantucket, Naushon and No Mans Land in Massachusetts, and Block Island and Conanicut Island in Rhode Island (Wagner et al., 1997: 262-4, and P. Z. Goldstein 1997: 219-220, and Schweitzer and Mello sources cited therein). There was also a small population on eastern Long Island, New York.
One by one, populations on each of these islands crashed. Throughout the 1980's, the alarm was raised and lepidopterists began keeping careful watch. Under contract with the Nature Conservancy, Dale Schweitzer surveyed Martha's Vineyard and Nantucket in 1983 and 1984. On Martha's Vineyard he reported only 47 worn males and 100 fresh females in August 1983, and on Nantucket he reported approximately 100 pairs in August 1984 (LepSocSeasSum, 1983, 1984). Local extinction on both these islands was very fast after that – a matter of just a few years.
One of the last known records from Nantucket is the photograph above, taken 8/13/1988 by Stan Bolton as part of the MAS Atlas project. Brian Cassie, Lyn Lovell, Donna Lang and Jonathan Center of the Massachusetts Butterfly Club were also there, providing sight records (Cassie, masslep post 8/27/2012; photograph, MBC slide collection). One of the last known Nantucket specimens was taken 8/18/1986 at Siasconset by W. Maple, also part of the Atlas project. Reports from P. W. Dunwiddie suggest that Nantucket population was "lower than usual" in 1989," with no larvae found by a MassAudubon search group. Apparently there was at least one report or specimen in 1990, the very last from that island (Mello 1989; Goldstein 1997: 220).
The last Regal Fritillary on Martha's Vineyard was seen in 1986 (Goldstein 1997: 220). The 1986-90 MAS Atlas did not find any Vineyard records. The last known specimen records from Martha's Vineyard are two, August 19 and 20, 1983, from Edgartown Katama Plains, D. Schweitzer (Yale Peabody Museum).
The last Regal Fritillary on Naushon Island was seen in 1988 by Mark Mello; his 7/29/1988 record for the MAS Atlas does not indicate whether a specimen was taken. On his visit in August 1989, no Regals were found (Mello 1989). The last Long Island record was also in 1988.
Block Island R. I. was a similar story: surveys each year chronicled the rapid decline to local extinction. In 1984, Harry Pavulaan sighted 46 males on July 21 and estimated that the male population could be about 70 individuals. In 1986, Travor captured 55-56 males in a mark/capture/release project. In 1989 Mark Mello undertook both a mapping survey for Viola fimbriatula, the host plant, and a population survey. He recorded only 27 sightings of adult Regal Fritillaries on July 25 and 26 -- half the number found three years earlier -- and some could have been multiple sightings of the same individual. Mello also did not find any larvae during intensive nighttime searches of the violet patches in May and June. He concluded that, despite the presence of good densities of the host plant and seemingly adequate nectar sources, this population had crashed (Mello 1989).
The very last New England Regal Fritillaries were reported from Rhode Island in 1991. One was seen on the north end of Block Island by Larry Gall (Wagner et al. 1997), and interestingly, two were seen on mainland Rhode Island that year, where they may have strayed or dispersed from one of the islands. Pavulaan recalls two sightings from Middletown in July 1991 (M. Schenk; H. Pavulaan), and another sighting in August 1991 from Conanicut Island, near Beavertail State park (R. Ludlow) (H. Pavulaan, pers. com., 2/23/2013).
In 1992, focused searches of all six New England island locations in July and August yielded no sightings, and none have been reported since (Wagner et al 1997: 264).
The disappearance of the Regal Fritillary from the northeast is a great loss. The extinction of the mainland populations seems mainly due to habitat shrinkage and fragmentation. Dale Schweitzer points out that frequent local colonizations and then local extinctions were probably always characteristic of Regals in the east. But in addition to land use changes, Schweitzer attributes the loss of one or two individual colonies to butterfly collecting, and to gypsy moth spraying, as factors which tipped the balance toward extinction.
But habitat loss does not seem to be the main factor in the decline of the island populations. Some apparently adequate habitat remains in those areas even today, although summer home development, fire suppression, and the cessation of livestock grazing have all taken a toll. The final blows to these colonies, Schweitzer believes, were salt spray damage from hurricanes in 1985 and 1991, along with cold, damp springs in 1989 and 1990 (Schweitzer, American Butterflies 1993).
The Reintroduction Effort
In December 1991 a combined working group was formed by a number of agencies, including the Massachusetts Division of Fisheries and Wildlife, the Natural Heritage Programs in Massachusetts, Rhode Island, and Connecticut, the Nature Conservancy, U. S. Fish and Wildlife, Massachusetts Audubon, and several universities. The group initiated a two-pronged recovery effort: a captive breeding program and a study of habitat management issues. The captive breeding program had to import stock from other states, since the Regal Fritillary was already extirpated here. The breeding program was not successful, but valuable lessons were learned, many of which have also been discovered in captive breeding programs in other states.
The captive breeding project was led by Dave Wagner (University of Connecticut at Storrs) and Joe Elkinton (University of Massachusetts Amherst). Jeff Boettner (University of Massachusetts Amherst) was the hands-on man at the Massachusetts lab, responsible for day-to-day care of the butterflies. He has successfully reared many, many species of lepidoptera. Captive breeding demonstrated some important limiting factors in Regal Fritillary biology, which have implications for their habitat needs.
The main problems have to do with Regal Fritillary reproductive strategy. Females are very fecund; captive females in the rearing project laid about 1400 eggs each, on average, and one laid about 2500 eggs! (Wagner et al. 1977). But as Jeff Boettner put it in a "masslep" post (8-27-2012): "if a species is rare but lays 2,000 eggs this is telling you something." It's telling you that large losses in eggs and early instars are probably routine in the wild, and that the fecundity is necessary to compensate for these large losses.
In the wild, eggs are laid in September, scattered indiscriminately over a wide area, often not actually on the violet plant. The eggs hatch, and these early instar larvae enter diapause and overwinter unfed. Many do not survive the winter, due probably to dessication but perhaps also flooding, mold, or predators. If they do survive, they may be too weak to find and feed on early violet foliage in spring, and thus starve. Perhaps over 90% of early instars do not survive.
Larval survival posed great challenges in the lab, and lab methods did not seem to be able to overcome the tendency of larvae to die off. Boettner recalls that "We had great success with egg laying and could produce large numbers of eggs. But we had horrible success at overwintering larvae (we tried outdoors in cages, indoors in growth chambers with controlled humidity etc...Dave Wagner had pretty good luck getting small numbers to survive indoors in chambers in special wood tubes he designed, but even then not many made it). Any larvae that made it to spring would feed quite well, and we had really great success getting most spring larvae to form pupae in a greenhouse setting. And we got nearly perfect success getting beautiful adults from these pupae."
Another problem was mating strategy. Boettner writes that "it was very hard to get mating under artificial conditions...likely because home ranges are huge in the wild. We even tried hand pairing, but these guys have intricate lock and key genitalia, so even people that were quite skilled at hand pairing butterflies got really frustrated with these. Mostly we had to just settle for a very small number that would mate, and then we had to keep the adults alive for a long time....then we would get lots of eggs from a few females and back to massive overwinter mortality and repeat" (masslep post 8-27-2012; other accounts, e.g. Wagner et al. 1997 and Wagner 1995, also stress high egg and larval mortality and difficulty of getting pairings).
One habitat implication is that dense concentrations of host plant violets were probably needed in order to increase chances of larval survival in spring. Whether any New England locations still had adequate concentrations of suitable violets became an important question. And, to ensure that such concentrations would persist, active management through grazing or mowing would undoubtedly be necessary.
The type of violet did not seem to matter, based on lab experience. In the wild in Massachusetts the Regal Fritillary was mainly associated with the dryland ovate-leaved violet (V. fimbriatula), which is similar to and often classed with V. sagittata, arrow-leaved violet, the documented host for the Fort Indiantown Gap, Pennsylvania, population. However, lance-leaved violet (V. lanceolata), common blue violet (V. sororia = papilionacea), and birdsfoot violet (V. pedata) may also have been hosts in our area, and the New England captive breeding program showed that the larvae (from mid-western stock) fed successfully on all these violets, and even on domestic cultivars of tri-colored violet V. tricolor (Wagner et al. 1997).
A second habitat implication had to do with nectar availability. The large losses of early instar larvae need to be compensated by high fecundity, and adult female diet influences fecundity. Abundant late summer nectar sources with trace amounts of amino acids seem very important to the survival of Regal Fritillary populations. Mark Mello carefully documented that the most-used nectar sources for Regal Fritillaries on Block Island were butterfly weed (Aesclepias tuberosa), and two non-natives, brown knapweed (Centaurea jacea), and bull thistle (Cirsium vulgare), as well as other milkweeds and thistles (Mello 1989; Wagner 1995). Studies of the Pennsylvania Regal population also document the importance of milkweeds and thistles (Ferster 2005). Whether these nectar sources would be abundant enough at a suitable reintroduction site in this state became an important question.
A final consideration emerging from the captive breeding effort had to do with pathogens. One of the captive reared larval cohorts was destroyed by an epidemic of a nuclear polyhedrosis virus, illustrating that such pathogens could be present in wild populations, and could have been a factor in the butterfly's decline (Wagner et al. 1997; Wagner 1995).
As it became clear that the lab effort could not produce numbers large enough for a reintroduction effort, and as questions persisted about the adequacy of remaining habitat, the notion of a reintroduction was abandoned.
Jeff Boettner summed up his personal conclusions, after having put an enormous amount of effort into the breeding program:
I think the best thing for saving Regals is to carefully maintain the rich habitats where you find them today. And by that I don't mean just buy and hold. Even the Pennsylvania population likely persisted thanks to military maneuvers and accidental fires which also encourage violets........ in the 90's [this location] was rich with thistle, ironweed, and a wide diversity of blooms all summer.
I would like to be able to say build it and they will come...back. But I think for this species we need to support efforts to maintain it where it is. But managing for our other native fritillaries is still a worthwhile management plan, as fritillaries are still great indicator species of good, diverse habitat.
Many would echo these sentiments. The Regal Fritillary is probably not a good candidate for reintroduction into Massachusetts today, but protecting the remaining fritillaries here is an achievable goal, and the fate of the Regal Fritillary should spur us to take on the challenge.
© Sharon Stichter 2013
page updated 2-24-2013
ABOUT BOM SPECIES LIST BUTTERFLY HISTORY PIONEER LEPIDOPTERISTS METHODS