ABOUT BOM SPECIES LIST BUTTERFLY HISTORY PIONEER LEPIDOPTERISTS METHODS
The Butterflies of Massachusetts
111 Ocola Skipper Panoquina ocola (W. H. Edwards, 1863)
<![if !vml]>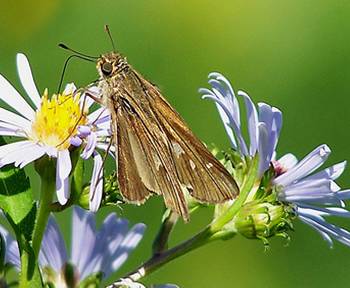 <![endif]>
Ocola Skipper is a strongly migratory species which, like the Sachem, Fiery and Long-tailed Skippers, typically arrives in small numbers in our state toward the end of the summer season, but does not survive the winter. If there is marked climate warming, these species may be expected to visit more frequently.
Scudder (1899) listed Ocola under "Butterflies not found in New England." It seems likely that its periodic emigrations north from its southeastern breeding range did not ordinarily reach Massachusetts or southern New England in the 19th century.
Photo: Amity Place, Amherst, Mass., F. Model, Sept. 24, 2005
History
On Tuesday, February 19, 1907, the Cambridge Entomological Club held its 24th regular meeting in the rooms of the Appalachian Mountain Club in Boston. The topic was Rare Insects of Eastern Massachusetts. Mr. H. H. Newcomb, the new club president, exhibited specimens of, among other things, "his rarest capture, Pamphila ocola, a southern skipper not recorded north of southern Pennsylvania. He took this insect in Milton in a secluded meadow not accessible to traffic" (Psyche XIV, 3: 63, June 1907). This specimen, from 1906 or earlier, is the first Ocola Skipper recorded for Massachusetts. There are only two other early 20th century New England records, from Rhode Island on 8 and 17 September, 1912, E. D. Keith (Farquhar 1934). In Connecticut, there are no historic records for Ocola Skipper prior to the 1990-95 Atlas. The skipper was first found in Connecticut during the Atlas project, and eight were found in those years, all occurring from early September to mid-October (O'Donnell et al., 2007).
Host Plants and Habitat
Ocola Skipper's recorded host plants are rice cut-grass, or Leersia oryzoides in West Virginia (Allen 1997), and further south sugar cane (Saccharum spp.), rice (Oriza sativa), and other grasses (Scott 1986). Rice cut-grass is native to and found in all Massachusetts counties (Cullina et al. 2011). The butterfly does not survive the winter in Massachusetts or Connecticut. Further south, it accepts a wide range of habitats, including disturbed areas.
Relative Abundance Today
As far as can be determined, Ocola Skipper was not reported at all in Massachusetts between 1907 and the 1990's. It was not found during the intensive 1986-90 Atlas period. BOM-MBC records cover the succeeding 23-year period 1991-2013, and in sharp contrast to earlier years Ocola Skipper has been seen in twelve of these 23 years (Chart 111). That is certainly a higher rate of sightings than was the case for any prior 23-year period.
This sighting increase has also been seen in the case of Fiery Skipper , which was seen in 21 of these 23 years, Long-tailed Skipper , which was seen in 12 of them, and Sachem, seen in 15 of them. In all of these cases of migratory skippers, there are essentially no historic records in Massachusetts, and then a burst of sightings beginning in the 1990s.
As Chart 111 shows, there were influxes of Ocola Skipper in 2003, 2004, 2005 and 2012. Aside from these years, no more than three were reported in any one year. None were reported in 1991. Oddly, none were reported in the four year stretch 2008-2011.
Chart 111: BOM-MBC Sightings, 1992-2013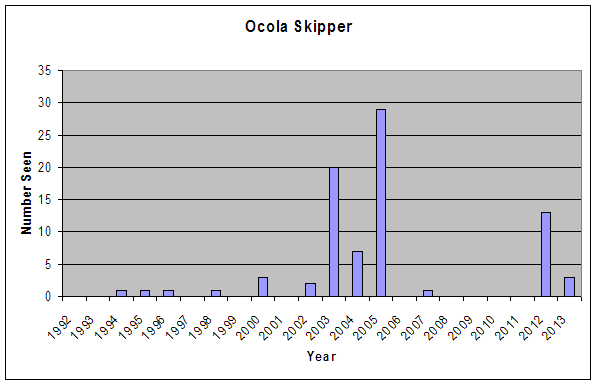 Total numbers of Ocola Skippers seen 2000-2007 ranked it as "Uncommon to Rare" in those years (Table 5). But the overall sighting trend over the last 20 years (1991-2013) is upward. Calculations using list-length analysis of MBC 1992-2010 data indicate that Ocola Skipper increased its detection probability in Massachusetts a statistically significant 250.5% over this time period. Other southern immigrants such as Zabulon Skipper, Fiery Skipper and Sachem showed similar increases (Breed/Stichter/Crone 2012). Zabulon Skipper has now become an over-wintering resident, and Fiery Skipper probably over-winters in warmer years. Ocola, Sachem and Long-tailed Skipper are now regular immigrants, and no longer rare.
State Distribution and Locations
An Ocola Skipper could probably show up almost anywhere in the state, although the Berkshire mountains are the least likely area. Coastal and eastern locations have been the most productive, but there have also been a good number of sightings in the Connecticut River valley. Ocola Skippers have been reported from 33 towns in the state in this time period (Map 111).
Map 111: BOM-MBC Sightings by Town, 1992-2013
<![if !vml]>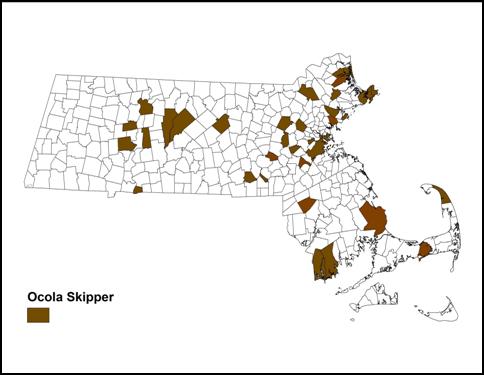 <![endif]>
Ocola Skipper has not yet been found in the ongoing Maine Butterfly Survey (3/2014) and so the northernmost reports in Massachusetts, from Newbury (1, 8/22/2004 and 9/29/2003, S. Stichter), Rowley (1, 10/2/2012, B. Zaremba, http://www.pbase.com/bo_z/ocola_skipper and Andover (1, 9/29/1996, R. Godefroi) in Essex County appear to be the furthest north along the east coast.
The westernmost reports are from Northampton (several) and Whately (1, 922/2005, B. Benner). The three reports from the central Massachusetts plateau are from New Salem (1, 10/3/2004, Prescott Peninsula, B. Benner); Petersham (2, 9/22/2003, North Common Meadow, R. and S. Cloutier); and Princeton (1, Heirloom Nursery, 9/12/2005, B. Walker). These three all occurred during influx years.
Along the east coast Ocola Skipper was particularly well documented in Plymouth in 2012 by M. Faherty http://www.flickr.com/photos/pajarero/7857803570/in/photostream , and was also found in such urbanised locations as Boston Nature Center (2, 9/21/2005, A. Birch), Nahant (D. Saffarewich), Peabody (A. Grkovich), Gloucester Wolf Hill Nursery (1, 9/15/2012, R. Heil http://www.flickr.com/photos/rsheil/7990177714/in/photostream and at a Walmart parking lot in Lynn (1, 10/4/2005, B. Faherty, ph.)
The following locations have produced multi-year sightings and/or larger numbers: Dartmouth Allens Pond and Gooseberry Neck (2000, 2003, 2004, 2005, 2007, 2012, max. 2 on 9/21/2003 T. Murray); Lexington Dunback Meadows (max. 2 on 9/19/2005 A. Birch); Nahant (2003, 2005); Newbury (2003, 2004); Northampton community gardens (2003,2004, 2005, max. 2 on 9/21/2005, T. Gagnon); Northampton Florence (1998, 2002, 2003); Northampton West Meadows (2003, 2004, 2005; max. 2 on 10/3/2003, T. Gagnon); Rockport Waring Field (2003, 2005, max. 6 on 9/22/2005 D. Savich and C. Tibbits); Wayland community gardens (2002, 2003, 2005); Westport Sylvan Nursery (2000, 2003, 2005; 2012). The six reported from Waring Field Rockport in 2005 constitute the largest number at any single location.
Broods and Flight Time
All Ocola sightings have been between mid-August and mid-October. There has been no evidence of a brood maturing or observation of mating or ovipositing.
Earliest sightings: In the 23 years of BOM-MBC records 1991-2013, the five earliest sightings dates are 8/14/2012 Plymouth Tidmarsh Farm, M. Faherty http://tinyurl.com/9ky4yeo ; 8/22/2004 Longmeadow Fannie Stebbins WMA, R. and S. Cloutier; and 8/22/2004 Newbury yard, S. Stichter (these occurred on the same day at opposite ends of the state); and 8/27/2003 Petersham North Common Meadow, D. Small, R. and S. Cloutier, and 8/27/2003 Topsfield Ipswich River WS, L. Mattuchio (these were also far apart but on the same day). The earliest sightings occurred in three of the four influx years.
Latest sightings: In the same 23-year period, the five latest "last sighting" dates are 10/11/2003 Westport, M. Lynch and S. Carroll; 10/6/2012 Northampton comm. gdns. T. Gagnon and Westport Sylvan Nurs. L. Miller-Donnelly; 10/6/2005 Northampton comm. gdns., T. Gagnon; and 10/5/2002 Wayland comm. gdns., S. Moore et al.
Outlook
Ocola Skipper is arriving in New England much more frequently now than 50 to 100 years ago. Massachusetts will probably see more of this southern visitor if climate warming moves its flight range northward (Table 6). Massachusetts is currently the northernmost edge of Ocola Skipper's secondary range; as of 2013 it has not been reported from Maine, Vermont, or New Hampshire.
Whether earlier arrivals and a successful brood here can be expected is uncertain, but both seem likely. Cech (2005) remarks that Ocola Skipper is the "consummate generalist," constantly dispersing and adapting to new habitats and circumstances. It also readily accepts disturbed habitats, such as agricultural fields, parks and gardens further south.
© Sharon Stichter 2011, 2012, 2013, 2014
page updated 3-26-3014
ABOUT BOM SPECIES LIST BUTTERFLY HISTORY PIONEER LEPIDOPTERISTS METHODS