ABOUT BOM SPECIES LIST BUTTERFLY HISTORY PIONEER LEPIDOPTERISTS METHODS
The Butterflies of Massachusetts
21 Hickory Hairstreak Satyrium caryaevorum (McDunnough, 1942)
<![if !vml]>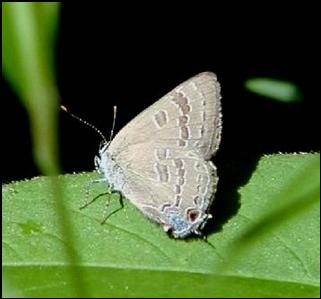 <![endif]>
The difficulty of identifying the Hickory Hairstreak in the field has held back knowledge of its abundance and distribution in Massachusetts. Although the species was differentiated from Banded Hairstreak in 1942, the two hairstreaks have similar but variable wing characters, and are often found in the same habitats. Photographs or a good sight view may yield an accurate identification in perhaps 80% of cases, but genitalic dissection is required for a fully reliable diagnosis (Klots 1961; Nelson 2004). While Banded Hairstreak is common in Massachusetts, Hickory Hairstreak is certainly much less common.
Photo: McLean Hospital, Belmont, MA, M. Rines 7-23-2003
History
Hickory Hairstreak was not distinguished by Samuel Scudder or by Thaddeus Harris. Thus there are no early (or even recent) specimens at Harvard's Museum of Comparative Zoology or at Boston University. Nor was this species reported historically for Martha's Vineyard or Nantucket (Jones and Kimball 1943).
Twenty Massachusetts specimens from the 1960's and 1970's can be found at Yale Peabody Museum. Of these, the seventeen specimens taken by C. G. Oliver in Belmont (Middlesex Co.) in 1965 and 1966 may be the earliest documented evidence of this species' presence in this state. Ten specimens were taken on one day alone – 8 July 1966 – indicating that there must have been a localised outbreak that year. A single specimen from 12 August 1970, taken by L. Gall in Becket, is the first documentation of Hickory Hairstreak from Berkshire County in western Massachusetts. A 5 July 1985 specimen taken at Milton Great Blue Hill (Norfolk Co.) by D. F. Schweitzer appears to be the first documentation for that well-known location.
In the 1970's, R. Busby reported Hickory Hairstreak from Groveland, Georgetown and Boxford (Essex Co.), and R. Robbins reported it from Rock Meadow, Belmont (Middlesex Co.) (LepSocSeasSum 1978; MAS Atlas). The species was not recorded during the 1986-90 Massachusetts Audubon Atlas period.
Host Plants and Habitat
The life history of Hickory Hairstreak was worked out in the 1960's by A. B. Klots, from larvae found in Greenwich, Connecticut (Klots 1961; O'Donnell et al. 2007: 176). The sole host plant, at least in Connecticut, is bitternut hickory, Carya cordiformis. The 1995-99 Connecticut Atlas found larvae in the wild only on this tree, and found that records of other hickories as hosts were in error due to misidentification of either the tree or the butterfly.
Hickory Hairstreak overwinters as an egg, usually laid in twig ends. In Connecticut, larvae hatch in spring and may be found on saplings and young bitternut hickory trees in late May and June; they silk adjacent leaflets together to form shelters. The green slug-like caterpillars are solitary feeders; younger larvae feed only on the undersides of leaves. They may be tended by ants. They emerge as adults in late June or July. (For photographs of the larva, see Wagner 2005.)
The habitat is rich deciduous oak-hickory forests, especially edges with nearby open sites for nectar. Hickory Hairstreak has been reported to nectar on milkweeds, yarrow, basswood, and other flowers. Hickory Hairstreak may be more common in extensive tracts of forest, but also seems to be found in smaller tracts which have the necessary host tree. Nature Serve (8/2013) points out that while Hickory Hairstreak does require C. cordiformis, this tree is not rare or uncommon in eastern United States, at least from Massachusetts south
Relative Abundance Today
Hickory Hairstreak is thought to be either uncommon or rare in Massachusetts, but as noted, our knowledge is hampered by the uncertainty of field identifications.
The most reliable post-Atlas reports of this species are those which have been photographed. The following is a list of photographed sightings.
1) Two photographs of Hickory Hairstreak, both taken July 9, 2011 at the Mt Greylock Visitor's Center, Lanesboro, by Frank Model, reviewed by A. Warren, appear on the Butterflies of America website at http://butterfliesofamerica.com/satyrium_caryaevorus.htm
2) A photograph taken by Marj Rines 7-28-2003 at Belmont on the grounds of McLean Hospital, was reviewed by Mike Nelson, state Invertebrate Zoologist, and is shown above. It also appeared on the cover of Massachusetts Butterflies 22, Spring 2004, and is available on the MBC website http://www.naba.org/chapters/nabambc/construct-species-page.asp?sp=Satyrium-caryaevorum
3) Four other photos appear on the MBC website (link above), taken 2005-2007 in Cummington and Williamsburg, by Barbara Spencer. These do not all have all the required identification characters, but are likely candidates. Further review by an expert would be desirable.
4) A photograph taken at Sheffield Bartholomew's Cobble by G. Kessler on 7/26/2013, during an MBC trip, also appears to be a likely candidate for Hickory Hairstreak, but further review would be desirable: http://garrykessler.zenfolio.com/p1032367595/h68e4c96b#h64cb0257
Field guides have encouraged observers to attempt to identify Hickory Hairstreak by sight, and therefore many field reports exist. Chart 21 shows the unadjusted number of Hickory Hairstreak individuals reported over the last twenty years in MBC data. No trends should be inferred from this chart.
Chart 21: Number of Hickory Hairstreaks Reported, 1994-2013
<![if !vml]>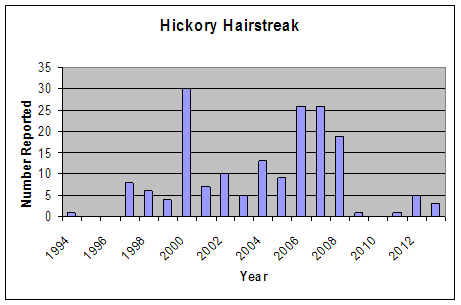 <![endif]>
.
The large number reported in 2000 reflects what may possibly have been a local outbreak of this species. Veteran butterfly observer Richard Hildreth reported 18 Hickory Hairstreaks at Draper Park in Hopedale on 7/21/2000; he returned three days later and counted 7, but other observers on 7/23/2000 (T. Dodd; B. Cassie) counted only 1-2. Three distinguishing field marks on those seen are described in Massachusetts Butterflies 16, Season Summary, T. Dodd: "...wider post-median bands than Banded, bordered by white, and the HW median double bars were aligned. The outer blue spot seemed to extend further than Banded."
The large total for 2006 could have been either another local outbreak or just a normal population level: Tom Gagnon and others reported 12 on a trip to Mount Greylock on 7/9/2006. The large numbers for 2007 and 2008 reflect the 12 reported on the Southern Berkshire NABA Count, based in Sheffield, in 2007 and the 18 reported from that Count in 2008. Unfortunately no precise location details are available.
These are the only large concentrations of Hickory Hairstreak reported in Massachusetts in these years. However, this species is known to have periodic population explosions; examples include a large 1992 outbreak in Canada, in which "thousands" were nectaring on one tree in Ontario (Layberry 1998), and an outbreak in Connecticut in 1980-81, when the species was reported in numbers on many Xerxes Fourth of July Counts (Atlas, O'Donnell et al. 2007).
State Distribution and Locations
Hickory Hairstreak has been reported from approximately 30 towns around the state, and from virtually all of the NABA Counts. If these reports are correct – and they may not be – Hickory Hairstreak is well-distributed across the state.
Singles have been reported once on the Martha's Vineyard NABA Count (2001), and once from Oak Bluffs (2005). On Cape Cod, a single was reported in 2006 on the Falmouth NABA Count. In the northeast, one was reported on the North Essex NABA in 2003, as well as singles in Topsfield in 2002 and West Newbury in 2004. If this species occurs in these areas, it is probably rare.
The species has been most frequently reported on the Central Franklin, and Central, Northern and especially Southern Berkshire NABA Counts. Hickory Hairstreak is probably not rare in these areas, which have extensive forests.
The most consistent and best-documented locations appear to be those on the photo list above: Belmont, Mount Greylock, Cummington/Williamsburg, and Sheffield.
Broods and Flight Time
Hickory Hairstreak has one brood in Connecticut, and no doubt in Massachusetts as well. MBC 1993-2008 sight records show a flight period of late-June through mid-August, with a peak in mid-July (http://www.naba.org/chapters/nabambc/flight-dates-chart.asp).
With field identification so uncertain, one might want to estimate the flight dates from museum specimens. The Massachusetts specimens in the Yale Peabody Museum show the following: earliest date: 28 June 1976, Belmont (Middlesex Co.), L. F. Gall; latest date: 12 August 1970, Becket (Berkshire Co.), L. F. Gall.
However, the sight and photographic records of the MBC 1994-2013 show a flight period quite similar to that in museum specimens. In these records, the earliest three dates are 6/23/2001 Woburn Horn Pond Mtn. M. Rines; 6/26/2004 Woburn Horn Pond Mtn. S. Moore; and 6/26/1998 Northampton T. Gagnon. The latest three dates are 8/19/2001 Northampton community gardens, T. Gagnon; 8/5/2000 Foxboro, B. Cassie; and 8/2/2005, Cummington, photo, B. Spencer.
Outlook
The current status of Hickory Hairstreak in Massachusetts remains something of a mystery due to identification uncertainties. But at present there is no compelling reason to think that it is either strongly declining or strongly increasing.
In its wider range, Nature Serve terms Hickory Hairstreak "a widespread somewhat uncommon species subject to no known widespread threats." Its status is not ranked in Massachusetts, but is "apparently secure" in Connecticut and New York (Nature Serve 8/2013). Hickory Hairstreak is less common north of Massachusetts: uncommon but present in Vermont (VBS 2002-2007), but not found in Maine (MBS 2013).
© Sharon Stichter 2013
page updated 8-16-2013
ABOUT BOM SPECIES LIST BUTTERFLY HISTORY PIONEER LEPIDOPTERISTS METHODS