ABOUT BOM SPECIES LIST BUTTERFLY HISTORY PIONEER LEPIDOPTERISTS METHODS
The Butterflies of Massachusetts
64 Eyed Brown Lethe [Satyrodes] eurydice (Linneaus, 1763)
<![if !vml]>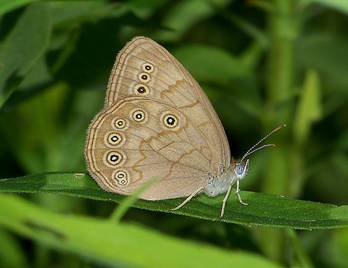 <![endif]>
The delicate Eyed Brown is one of our earliest-described species, and was well-known in New England in the 19th century. In the mid-1900s, the more southern-based Appalachian Brown was split off as a separate species. Chermock first described Appalachian Brown in 1947, and then studies by Cardé, Shapiro and Clench (1970) demonstrated that the two very similar butterflies were often found near each other in the field, and shared the same host plant, but were separated by habitat type, the Eyed Brown being found on open sunny wetlands, and the Appalachian Brown found in surrounding moist woodlands.
Early writers such as Thaddeus Harris and Samuel Scudder did not distinguish Eyed and Appalachian Brown; their writings could refer to either species, making it difficult to sort out what the distribution of each may have been in Massachusetts. However, retroactive determinations of specimens have been made by curators at the Harvard Museum of Comparative Zoology, Yale Peabody Museum, and other collections, adding greatly to our knowledge.
Photo: North Adams, Mass. July 9, 2010, F. Model
Scudder presented eurydice as a "northern butterfly;" his southern-most records come only from Long Island, New Jersey, and Ohio. In New England "it is not a very rare insect, especially in the northern and elevated parts." In Massachusetts, it was known from Williamstown, the Connecticut Valley, "and by many collectors about Boston, where, though not abundant, it is by no means rare ..." (1889: 196-7)." Prior to Scudder, Thaddeus Harris had mentioned Eyed Brown (H. Boisduvalli) as found in the "northwestern parts" of Massachusetts (1862, 3rd Edn.: 305-6). His own 1835 specimens came from Dublin, New Hampshire (Index). But Newton naturalist Charles Maynard 1886) found Eyed/Appalachian "quite common about Belmont, Mass." He called it the Ten-spotted Quaker, because of its drab coloring.
All of the ten specimens in the Harvard MCZ taken by F. H. Sprague in Wollaston (now Quincy, Boston) and Malden in July 1883 have turned out to be Appalachian Browns. However, there are two specimens from Wollaston July 1878 which do not appear to have been dissected or re-determined, but which appear on rough inspection to be Eyed Brown. So Eyed Brown probably occurred in the Wollaston/Milton/Blue Hills area in the 1880's, but Appalachian Brown appears to have been the more numerous species. The only other early eastern Massachusetts specimens of Eyed Brown which can be found in the MCZ are from Tyngsboro (1916) and Weston (1919). The next earliest is a 1936 C. L. and P. S. Remington specimen from Milton Blue Hills (Yale).
Eyed Brown appears to have been more plentiful in western Massachusetts in the late 19th century. Sprague, for example, reports taking an astounding 40 specimens in Belchertown in 1878, and also a few in Ludlow (Sprague 1879). Of the five remaining Belchertown/Ludlow specimens in the MCZ, all have been reviewed and found to indeed be Eyed Browns. In fact, there appear to be no existing 19th century specimens of Appalachian Brown from western Massachusetts. The earliest Appalachian records appear to be Amherst in 1976 (D. Bowers, App/Eyed specimen in MCZ) and Sheffield, in 1982 (D. S. Dodge specimen in Yale Peabody Museum). Appalachian Brown may have been slowing expanding its range northward in the 20th century.
For the 1930s through 1950's, specimens and literature references suggest that Eyed and Appalachian Browns, considered together, were quite well distributed throughout mainland eastern and central Massachusetts, at least, but were rare or uncommon in the southeastern part of the state. Farquhar (1934), for example, adds to Scudder's account the towns of Lexington, Marblehead, Manchester, Stoneham, and Lincoln, as well as Princeton in Worcester County, for Eyed/Appalachian Brown. There is a lack of specimens of either species from southern Bristol and Plymouth Counties, Cape Cod, and the islands. In the rest of the state, despite some undoubted habitat loss through development of wetlands (Table 2), both species probably remained widespread.
In 1936, Eyed Brown (specifically) was documented at Blue Hills Reservation in Milton by C. L. and P. S. Remington (Yale Peabody Museum). In the 1960's many Eyed Brown specimens were collected by C. G. Oliver in Belmont, Acton Center, and Littleton (Yale Peabody Museum). In the 1970's Deane Bowers collected both Eyed and Appalachian Brown in Amherst (LepSocSeas Sum 1976; specimen in MCZ needs to be re-examined). In 1973 W. D. Winter collected Eyed Brown in Dover and West Medway (specimens in MCZ).
Eyed Brown's presence in Berkshire and Franklin Counties was not established until the 1960's and 1970's. (Scudder's 19th century Williamstown report appears to have no MCZ specimen.) Specimens from Richmond (1962, O. R. Taylor) and Becket (1972 and 1974, L. F. Gall) in the Yale Peabody Museum seem to be the first from Berkshire County. In a first report for Franklin County, G. Morrell found eurydice "common" at Charlemont in 1975 (Lep.Soc. Seas. Sum 1975).
Eyed Brown is either not found or extremely rare in southeastern Massachusetts and Cape Cod today, and it does not appear to have been there historically, since there is a lack of museum specimens and historical reports. For Nantucket, C. F. Kimball's report in 1943 does not list either Eyed or Appalachian Brown (Jones and Kimball 1943). For Martha's Vineyard, F. M. Jones reported "S. eurydice" from "the bog at Old Millhouse." His specimens from 1945 and 1949 are deposited in the Yale Peabody Museum, but all have been determined to be Appalachian Browns. Eyed Brown was thus apparently not present on either island historically.
Host Plants and Habitat
Larvae of Eyed Brown (and Appalachian Brown) feed on sedges, probably mainly the widespread and common tussock-sedge (Carex stricta), but they also utilize C. bromoides, C. lacustris, C. lupulina, and C. trichocarpa (Scott, 1986; Shapiro 1974). All these are native to Massachusetts (Sorrie and Somers 1999). The eggs are scattered near the host plant, and larvae crawl to the plant. Larvae overwinter as third or fourth instars. Eyed Brown has not adopted any new non-native hosts as far as is known, but will sometimes accept "grasses" in lab rearings.
Eyed Brown adults feed on sap or bird droppings, but occasionally use nectar from flowers such as swamp milkweed or joe-pye weed. A photo of Eyed Brown on scat can be seen at http://www.naba.org/chapters/nabambc/construct-species-page.asp?sp=Satyrodes-eurydice .
Eyed Brown's habitat is open, sedge meadows, in contrast to Appalachian Brown, which prefers shrubby and forested wetlands. Eyed Brown can also be found on the edges of freshwater cattail marshes, or along slow streams, but rarely in drier meadows. Eyed Brown is a fairly sedentary butterfly, and does not disperse in great numbers, even when populations are large (NatureServe 4/2012).
Relative Abundance Today
Both total MBC reports 2000-2007, and MAS Atlas bloc reports 1986-90 rank Eyed Brown as Uncommon in Massachusetts (Table 5). Appalachian Brown also ranks as Uncommon, but is usually a bit easier to find. The Atlas termed Eyed Brown "locally common" but this label means only that certain colonies or meta-colonies might build up in numbers in a given wetland complex. Hardly any such large colonies have been reported in recent years.
MBC records for these two Brown species are undoubtedly affected by the difficulty of separating Eyed and Appalachian Brown in the field, even with photographs or net-and-release. Some individuals have intermediate characters and are difficult to assign to species. Some identification errors no doubt occur in MBC data, but these are partially overcome by the large numbers of reports over this time period. The MAS Atlas faced a similar problem, and Richard Walton suggested that hybridization might be taking place in Massachusetts.
Chart 64: MBC Sightings per Total Trip Reports, 1992-2009
<![if !vml]>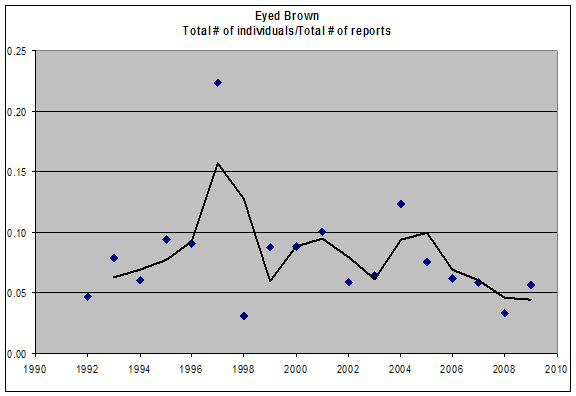 <![endif]>
The apparent high in 1997 should probably be adjusted downward; it is mostly due to the small number of non-Count trip reports that year, combined with the good numbers which were reported on the NABA Counts. But total numbers seen still dropped sharply in 1998, despite a high number of trip reports, and overall there is a slight downward trend in these data (R²=0.021). This is in contrast to the strong upward trend in sightings of Appalachian Brown.
List-length analyses of MBC data also finds that Eyed Brown has been mildly decreasing, while Appalachian Brown has been increasing. Harvard Forest researcher Greg Breed found a 15% decline in Eyed Brown 1992-2010, versus a 26% increase in Appalachian Brown, although neither change reached the level of statistical significance (Breed et al. 2012). And finally, calculations by Erik Nielsen showed that in 2007, 2009 and 2010, the average number of Eyed Brown per trip report showed only modest increases or decreases (2008) relative to the cumulative average for preceding years back to 1994, whereas the average number of Appalachian Browns per trip report showed very strong relative increases in each of these four years. The maximum number of Eyed Browns reported was down in all four years, relative to prior years (Nielsen, Season Summaries, Massachusetts Butterflies 30, 32, 34, 36).
It should not be assumed that the increase in Appalachian Brown is a cause of the possible downward trend of Eyed Brown. The two species occupy slightly differing although often adjacent habitats. A more likely cause of Eyed Brown decrease is climate warming.
State Distribution and Locations
Map 64: BOM-MBC Sightings by Town, 1992-2013
<![if !vml]>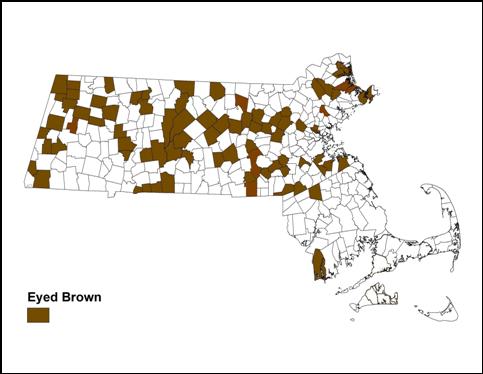 <![endif]>
Map 64 shows that Eyed Brown is found largely to the north and west, with hardly any seen in southeastern Massachusetts, Cape Cod, or the islands. This distribution generally accords with that found by the 1986-90 MAS Atlas. Eyed Brown is established throughout Berkshire County, from south to north, and has strong showings in Franklin, Worcester, Essex and Norfolk counties. It is not common in Middlesex County around the Boston area. Eyed Brown has been found in 82 out of 351 towns in the years shown in Map 64, compared to 110 for Appalachian Brown.
Although Eyed Brown was reported on the Martha's Vineyard NABA count in 2001 and 2005, expert Vineyard observer Matt Pelikan now believes that Eyed Brown probably does not occur on the Vineyard, and that these earlier reports were mis-identified Appalachians (pers. comm. 11/19/ 2009). This interpretation accords with the evidence from historical museum specimens (see above): all F. M. Jones's specimens from the 1940's in Yale Peabody Museum have now been retroactively determined to be Appalachian Browns.
For Nantucket, neither MBC nor Atlas records show any Eyed Brown or Appalachian Brown reports. Neither species was reported there historically, and neither is listed by contemporary observers (LoPresti 2011).
For southeastern Massachusetts (Plymouth and Bristol Counties), MBC records show very few reports of Eyed Brown (and only slightly more for Appalachian Brown, Map 65). From Plymouth County here are no reports, either from MBC or the Atlas, except for an uncertain single sighted once by one observer on the Middleboro NABA Count. In southern Bristol County, Eyed Brown has been reported only once on the Bristol NABA Count (1, 1995), and twice from the Acoaxet area of Westport (1, 7/6/2001, and 2, 7/25/2004, M. Lynch and S. Carroll). In contrast, Appalachian Brown has been reported on the Bristol NABA quite often in recent years, and there are other Atlas and MBC Appalachian Brown reports from southern Bristol County.
For Cape Cod, the Atlas had no records of Eyed Brown. MBC has only two somewhat equivocal reports, neither of which is on the map: Falmouth (4, 8/3/2000, Waquoit Red Brook, A. Robb) and Outer Cape Cod NABA (1, 7/12/1997, J. Sones). The Falmouth report has not been confirmed by any other observer or reported on the Falmouth NABA Counts, and the next year, in 2001 (7/12/2001), the same observer reported browns from the same site as Appalachians. This colony should therefore be re-checked.
The Outer Cape report derives from a site near Provincetown called Evans Field, from which Eyed Brown was reported in the late 1990's (T. Hansen in Stichter 2005; Mello and Hansen 2004). Mark Mello has four 1979 specimens from this site, and believes that one appears to be definitively Eyed Brown, while the other three look intermediate (M. Mello, pers. com. 4/23/2012). After the late 1990's, all subsequent citizen science reports from Evans Field have identified the Browns there as Appalachian Browns: for example, photos from 2008 by M. Faherty, which are clearly Appalachians, may be seen at https://picasaweb.google.com/117758451632846922986/TruroButterflyCount2008# Eyed Brown probably did occur at this site at one time, but probably does not occur there today.
If Eyed Brown is contracting its range due to climate warming, as is likely, Cape Cod would be where the change would probably occur first in Massachusetts. For this reason it is particularly important to confirm whether Eyed Brown is or is not present on the Cape.
Specific Locations: Eyed Brown might occur in fairly large numbers in some extensive wetlands. But often counts are made from an edge or a roadway, from which most butterflies in the wetland are not easily seen. Whatever the reason, most reports are of less than 10 individuals at a site. The following are among the larger reports from single sites in MBC records:
Belchertown Quabbin Park, 31 on 7/25/1999, M. Lynch and S. Carroll; Harvard Oxbow NWR, 12 on 7/15/2009, R. Hamburger; Hawley Hawley Bog, 15 on 7/3/2004, M. Lynch and S. Carroll; Ipswich Appleton Farms TTOR, 11on 7/7/2012, S. Stichter/H. Hoople/R. Hopping; Lexington Great Meadows, 10 on 7/19/1997, M. Pelikan; Longmeadow Turner Park, 6 on 7/10/2004, R. Pease; Lunenberg, 15 on 7/14/2013, C. Kamp; Milford power line, 7 on 7/18/2004, E. Nielsen; New Salem Prescott Peninsula, 6 on 7/10/1994, D. Small; New Salem Branch Bridge Road, 6 on 7/7/2009, F. Model; Newbury Martin Burns WMA, 44 on 7/14/2001, D. Peacock, but 12 on 7/12/2005, S. Stichter et al.; Northborough Crane Swamp Trail, 4 on 7/25/2009, S. Moore and B. Volkle; North Adams, 20 on 7/4/2005, R. and S. Cloutier; North Andover Weir Hill TTOR, 10 on 7/4/2010, H. Hoople; Petersham Tom Swamp, 12 on 7/3/2004, M. Lynch and S. Carroll; Sudbury, 10 on 7/9/2000, E. Nielsen; Upton, 5 on 7/14/2013, T. Dodd; Westwood Hale Res., 20 on 6/9/2001, E. Nielsen; Williamstown Hoosac River, 12 on 7/14/2003, P. Weatherbee; Windsor Notchview, 2 on 7/12/2012, T. Gagnon et al.; ,Worcester Broad Meadow Brook WS, 11 on 7/25/1993, T. Dodd.
Broods and Flight Time
According MBC 1993-2008 records, Eyed Brown normally flies from mid-June through mid-September, with the most individuals reported in the second week of July (http://www.naba.org/chapters/nabambc/flight-dates-chart.asp). However, confusion with Appalachian Brown may be skewing the flight data for both species. (Many of the late flying Eyed Browns may actually be Appalachian Browns.) Wagner (CT Atlas 1990-95) reports one brood of Eyed Brown for Connecticut, flying from late June to mid-August.
The flight period of Appalachian Brown as shown in MBC records is virtually identical, except that there is a second bulge of Appalachian individuals seen in mid-August after the initial peak in mid-July. This second peak does not occur with Eyed Brown. Most authorities agree that Eyed Brown has only one brood throughout its range, whereas Appalachian Brown has a second flight in southern states. Opinions differ as to whether Appalachian Brown has two broods in Massachusetts and Connecticut, or simply one long brood with staggered emergences lasting through mid-September.
Earliest sightings: In the twenty-two years of BOM-MBC records (1992-2013), the six earliest "first sightings" are 6/5/2010 Northborough Crane Swamp Trail, B. Volkle and S. Moore; 6/9/2001 Westwood Hale Reservation, E. Nielsen; 6/19/2012 North Andover Weir Hill, H. Hoople; 6/20/2011 Sherborn gas line, B. Bowker; 6/20/2008 Newbury Martin Burns WMA, J. Stichter; and 6/20/1998 Braintree, B. Cassie. The Atlas early date was similar: 6/22/1994 Granby, T. Fowler.
The particularly warm springs of 2010 and 2012 may account for the record sightings in those years. There are two years in which Eyed Brown was first reported 6/14 or earlier (early June), and six years in which the "first sighting" falls in the third week of June (6/15-6/22). In the remaining eleven years the first sighting was not until the fourth week of June, and in remaining three years the flight beginning was certainly missed, since the first report does not occur until July.
Scudder reports that in the 19th century "the imago usually appears about the 7th of July, occasionally as early as the 1st, or as late as the 15th..." (1889: 198). Scudder's dates usually applied to "New England," and it would thus seem that Eyed Brown's flight period today is more advanced than a century ago. There may also have been some flight advancement within the last 25 years.
Latest sightings: In the same 22-year period (1992-2013), the four latest "last sightings" are 9/11/2003, Milford, R. Hildreth; 9/5/1998 Northbridge, R. Hildreth; and 9/4/1999 Longmeadow Fannie Stebbins WS, T. Gagnon, and 8/26/2012 Northboro Crane Swamp Trail, S. Moore. There have been no sightings in September since 2003, and it is possible the tail of the flight period is contracting.
A century ago, Scudder reported that a few individuals keep flying into September. He cited substantially the same late dates (mid-August, a few flying into September) as we see today. Over the recent 22-year period, 1992-2013, there have been only the three September sightings listed.
Outlook
The southern edge of Eyed Brown's geographical range in eastern North America runs through central Pennsylvania and New Jersey (maps in Opler and Krizek 1984; Cech and Tudor 2005). (Its range extends further north into Canada than that of Appalachian Brown, while Appalachian Brown is found further south, into the Carolinas and north Georgia.) As a northern-based species, Eyed Brown is vulnerable to climate warming in Massachusetts, and to northward range pull-back. It is therefore listed on Table 6 as among those butterfly species likely to decrease due to climate change.
In Connecticut, comparison of the map of 1995-1999 Connecticut Butterfly Atlas voucher specimens, to the map of all pre-project specimens, indicates some range pull-back to the northwest in that state. And the number of pre-project specimens (65) greatly exceeded the number of records found during the project (13). Eyed Brown is therefore listed as S2S3 or "imperilled" in Connecticut, and is a state Species of Special Concern (O'Donnell et al. 2007: 275, 324, 292 Table 6.2).
The Connecticut finding is part of a picture of decline in the southern part of Eyed Brown's range. D. Schweitzer at NatureServe believes that Eyed Brown is "declining severely...in New Jersey, Pennsylvania and southern New England." It is possibly extirpated in Delaware, and under review in New Jersey (consulted 4/2012).
Eyed Brown depends on open, sedge meadow wetlands; natural succession of these habitats to shrub and forested wetlands represents a threat to this species. Management of wetland edges and occasional mowing to prevent shrub succession is recommended.
Invasive plants such as purple loosestrife and common reed are also a major threat to sedge wetlands; D. L. Wagner lists such non-native invasives as a key reason for Eyed Brown's decline in Connecticut (O'Donnell et al. 2007, Table 6.2).
Eyed Brown's Massachusetts conservation rank is still S4 or apparently secure (NatureServe 4/2012), but this may need to be revisited since MBC records indicate some decline and range pull-back over the past 20 years. Colonies at the southern edge of the range in Massachusetts should be monitored yearly.
© Sharon Stichter, 2012, 2013, 2014
page updated 9-22-2014
ABOUT BOM SPECIES LIST BUTTERFLY HISTORY PIONEER LEPIDOPTERISTS METHODS